I am an affiliate with ADT. I earn a commission if you sign up through my link with no extra cost to you.
Yes, even law enforcement families need home protection and security. Honestly, after the craziness that we have seen the past year and a half, law enforcement families may need the added security even more.
I, of course, feel incredibly safe when my husband is home and off duty, but when he is working, I absolutely want that extra security.
Unfortunately, many law enforcement families I know have gotten threats (or their officer received one on the job), received odd phone calls, and have gotten nasty messages on social media which are cause for alarm.
If you are looking for ways to add more security to your home, here is what I recommend:
Home Video Camera
Home security cameras outside your home provide a constant view of doors, windows and entry points. You can view them at home or while your spouse is working for extra peace of mind.
Video Doorbell
This is one of my favorite security devices that we own. I can easily see who is at my door, receive notifications, get videos and pictures all with one app.
Home Security System
The most trusted home security system in America is ADT. They can give you constant peace of mind and a safer home with their state-of-the-art security systems.
And because I know how important safety is to law enforcement families, I have partnered with ADT to give you the absolute best deal.
By signing up with ADT using my link you will get:
-An ADT video doorbell installed for FREE. The doorbell comes with HD video, infrared night vision, and 2-way talk.
-An ADT $100 Visa Reward card.
FREE Police Wife Guide- Top 10 Ways to Rock Police Wife Life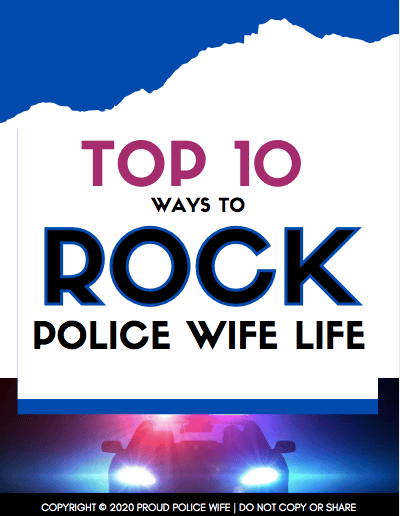 Learn to rock police wife life with these 10 easy tips! Join over 20,000 fellow police wives who are learning to rock it and feel supported with our help each week! Once a week I will provide you with even more ways to feel encouraged and supported for your law enforcement wife journey with my newsletter.
Read my PRIVACY POLICY here.