Friends and family that aren't pro-police. Unfortunately, it seems more and more common lately and a super tricky one at that.
Years ago when my husband was a rookie, I remember scrolling through my newsfeed on Facebook and seeing a not-so-positive post shared by one of my Facebook "friends". A friend I had through middle and high school, but not someone I really talked to in my adult years.
Her shared post had something negative regarding law enforcement and was a HUGE generalization. I, of course, engaged. I commented. She then sent me private messages and we continued there. She was definitely not pro-police.
Even though I remained civil and thought we could have an adult conversation, I quickly saw things were getting heated. I finally stopped responding but wasn't sure how to proceed as I didn't want someone with total disrespect for law enforcement on my friend's list.
My mom gave me great advice and I remember her saying that "we all have friends for different seasons of life and I should evaluate whether or not that particular friend was needed in my current season life."
She was totally right. Ultimately, I unfriended this person. And nowadays would I even engage in conversation like I did years ago? Nope. My older wiser self avoids conflict much more and to me, this type of conflict is toxic so I keep it out of my life. Just like I avoid reading the comments section online.
Bottom line:
We all have opinions and we should be able to express those opinions. However, I think STRONG beliefs especially ones political in nature aren't going to change on a Facebook post or over DM.
If you come across a friend or even a family member that shows negativity towards police you do have options.
Here are 4 ways to disengage and avoid conflict from "friends" and family that aren't pro-police:
Do not get in an argument on social media
I can not stress this enough. If you end up seeing an anti-police post on your feed by a friend or family member, think twice about whether or not you want to comment. While I firmly believe we should all express our opinions, I don't think social media is the place for it.
In addition, avoid reading the comments on any media outlet pages or police department pages. Bottom line: it's toxic and that negativity is one you should avoid.
Unfriend on social media
Obviously, you can be friends with people on social media that have differing opinions from yourself. But, for some of us, anti-police beliefs are hard to tolerate.
Personally, I keep my friends list rather short and only friend those I know. I share pictures of my children and husband. It is important to me to keep my friends list only with those I want to share those personal aspects of my life with. So if someone is blatantly anti-police and repeatedly posts these beliefs on their page, then I choose to unfollow/unfriend.
I know this can get trickier with someone that is family. I think you have to go on a case-by-case basis here. You may need to discuss this with your officer and decide what is the best way to maturely address the situation.
Grab the All-in-One Police Wife Reference Guide
Grab this handy reference guide for all things police wife! From important dates & events to resources for law enforcement- all in one place! Subscribing also gets you access to my weekly newsletter full of tips and encouragement.
Read my PRIVACY POLICY here.
Know that you ARE allowed to block negativity and toxic relationships from your life
In all honesty, the less negativity you are around, the happier you will be.
Any relationships that bring attention to negativity and are unsupportive of your spouse's career are ones you may need to reevaluate.
It may be easier to end a relationship with someone that is a friend because if they are causing negativity then they aren't truly a friend at all, right?
But I know these waters are harder to navigate with a family member. Having a calm discussion with this family member may do the trick. If not, making changes and putting boundaries in place may need to be the next step.
Ultimately, if nothing seems to move in a positive direction, then, by all means, you need to re-evaluate that relationship and how much you invest in it.
You an in control of how much negativity you allow in your life.
Stand strong in your beliefs
Remember that your beliefs are YOUR beliefs. "Friends" that aren't pro-police will have strong opinions, too. Don't ever question your beliefs because of someone else.
Sometimes when people make more controversial posts, such as anti-police posts, they are looking for an argument or are more open to one. Getting in that argument or commenting back is only giving them the satisfaction they were hoping to gain. Don't give that to them.
FREE Police Wife Guide- Top 10 Ways to Rock Police Wife Life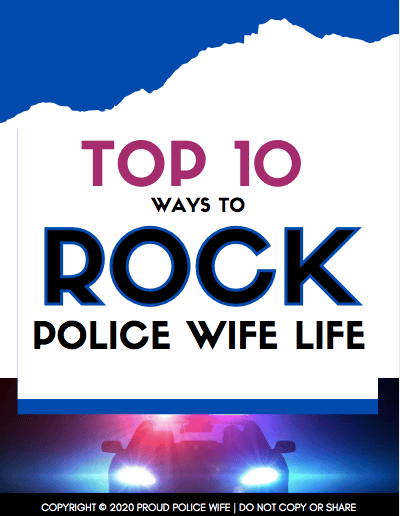 Learn to rock police wife life with these 10 easy tips! Join over 20,000 fellow police wives who are learning to rock it and feel supported with our help each week! Once a week I will provide you with even more ways to feel encouraged and supported for your law enforcement wife journey with my newsletter.
Read my PRIVACY POLICY here.