Hi there! Thanks for stopping by! I am Rebecca- a blogger, author, mother of 3, former elementary school teacher and wife of a law enforcement officer. 
If you are a fellow law enforcement spouse/girlfriend, then I am sure we have a ton in common! Being married to a law enforcement officer is a lifestyle and it makes us incredibly flexible, independent and strong. I left my career in education to stay home with my children and now have a career as a writer providing support and resources to law enforcement families. This community is a place of encouragement, support, and motivation for all law enforcement wives and families.
Need a good read to give you encouragement? Check out my new book here!
Maybe you want to find ways to show your officer how much we support their daily sacrifice?
Or are you looking for encouragement when it feels like the world hates your spouse for their job?
As a police wife for 15+ years, I know how hard each obstacle of this life can be. You get lonely, you feel frustrated that non-law enforcement don't understand our life, you may be a "solo" parent. All of these things I talk about and help you solve, each week, when I send out my weekly newsletter. Don't miss out- Join my newsletter now! I will even send you "Top 10 Ways to Rock Police Wife Life" as my gift to you for joining!
From support for you, the police wife, to encouragement and solutions for your struggles, I guarantee you will find something you resonate with. So, get comfy, grab a sweet treat or coffee, and start reading. If you are a fellow police spouse then remember, we are in this together. We stand united and we all walk along this thin blue line!
If you want to see the ins and outs of my life as a police wife, I share about it in my stories daily on Instagram and through funny reels. Come say hi on the gram!
You've got this,
Rebecca
FREE Police Wife Guide- Top 10 Ways to Rock Police Wife Life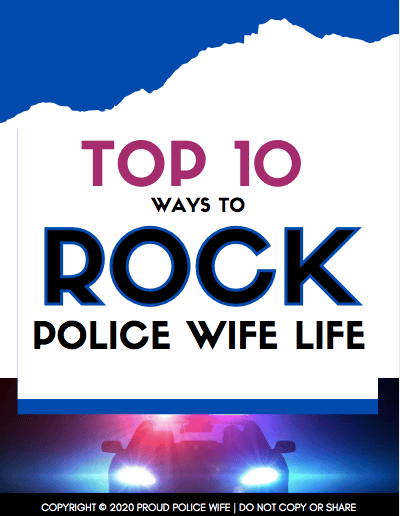 Learn to rock police wife life with these 10 easy tips! Join over 20,000 fellow police wives who are learning to rock it and feel supported with our help each week! Once a week I will provide you with even more ways to feel encouraged and supported for your law enforcement wife journey with my newsletter.
Read my PRIVACY POLICY here.