This post is brought to you by Heroes Travel. All opinions and words are honest and my own.
If you are a law enforcement officer or family, then I don't have to tell you twice that police officers experience high levels of stress and negativity on a regular basis. It is not only healthy to take regular breaks away from the job, it is recommended.
Law enforcement officers are susceptible to burnout and one way to avoid this burnout is to take vacations reguarly.
And if you are spouse reading this, then you can even let the officer in your life know that there is actual research showing that regular vacations away from home, reduce burnout, high levels of stress, and improve overall health. (The linked articles examine the mentioned research).
For years my husband had time that just accrued because we didn't want to inconvenience other deputies on his shift. He now uses the time that he has EARNED and we make vacations a priority for our family.
But I do know that planning a vacation can be just as stressful. That's why finding a trusted travel agent is valuable and did you know they can most likely save you some money, too?
Here's what I recommend.
Here's How to Get Travel Deals for Law Enforcement Families:
We all want to save time and money, right? And as law enforcement families you deserve to plan a vacation with someone you trust.
That's why going with Heroes Travel, a full service travel agency that caters to law enforcement families, is the best choice. The owner, Andrew Kish, is a police officer himself and his team members are all connected to the first responder community in some way.
So you can feel comfortable knowing that you vacation is taken care of by someone who wants you to be relax, have fun, and be safe while traveling.
(Be sure to check the bottom of this blog post for an additional way to save money with Heroes Travel).
What's the benefit of using a Travel Agent from Heroes Travel?
-White Glove Service
Andrew and his team pride themselves on providing a seamless service for their clients. For example, if changes to your connecting flight occur while you are mid-air, Andrew and his team will take care of those changes and you'll be made aware the moment you land alleviating stress in the airport.
-Takes the stress away from planning and travel changes
Law enforcement officers deal with enough stress. Vacations shouldn't be one of them.
-Being able to receive deals that only the travel agent has access to
Heroes Travel works with a variety of hotels, resorts, cruise lines, and vendors and has access to a variety of deals and discounts saving you money.
-Going with a law enforcement owned company that you can trust
Heroes Travel knows how important it is to work with someone you trust. Andrew works in law enforcement himself so he knows the safe locations to stay at and how important it is to keep your family safe.
How much do the services at Heroes Travel cost?
This is the BEST part. Services from Heroes Travel are FREE for you! Hotels, cruise lines, and companies pay for the travel agent ALWAYS so you can use their services at no cost!
What deals do law enforcement families get?
Andrew and his team cater to law enforcement families. In addition, they have the ability to look at multiple vendors prices and offerings in one fell swoop. This allows them to find the absolute best deals while comparing your wants and needs while traveling. (Be sure to check below for an additional way to save money with Heroes Travel).
In addition, when working with Andrew and his team at Heroes Travel, you'll have the ability to readjust or change prices if better deals become available. The sooner you book, generally the prices are better. When you book during off season, you can get better discounts.
The team at Heroes Travel is aware of the best ways to save and get the most bang for your buck, saving you money in the long run.
Contact Heroes Travel and get travel deals for law enforcement now!
If viewers or listeners (that's you!) mention Proud Police Wife or The Proud Police Wife Podcast, you will get a 2.5% pre-tax value rebate. Rebate will come after the vacation is completed.
President and CEO of Heroes Travel, Andrew. Direct Line: 520-553-8625
FREE Police Wife Guide- Top 10 Ways to Rock Police Wife Life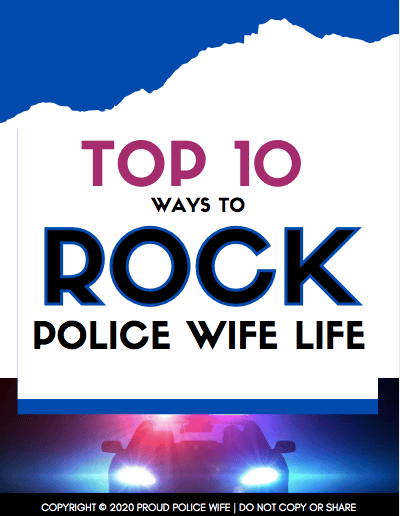 Learn to rock police wife life with these 10 easy tips! Join over 20,000 fellow police wives who are learning to rock it and feel supported with our help each week! Once a week I will provide you with even more ways to feel encouraged and supported for your law enforcement wife journey with my newsletter.
Read my PRIVACY POLICY here.