First responders are just that- the ones that respond to danger, negativity and emergencies FIRST. They are the helpers in the world and constantly being exposed to heavy topics and experiences can take a toll.
One way to combat the high exposure to negativity and emergencies is by building resiliency in first responders. This not only helps them process what they see on the job, but helps decrease burnout in first responders and spillover from the job.
In today's podcast episode we brought on Kristen Jauregui as our guest. Kristen is a fellow police wife, dispatcher of 23 years, resiliency speaker for the FBI, and author of a new book titled A Resiliency Journal for First Responders.
Building Resiliency in First Responders
Kristen's family has years and years of experience working as first responders from her father, brother and husband. She is also a dispatcher herself.
When 2020 hit, she found herself looking for ways to mentally combat her job and personally grow. She became passionate about resiliency and helping others grow so what better way to do this than to now turn that passion into a way to help first responders across the country. That's when Kristen began writing A Resiliency Journal for First Responders.
Kristen's journal is incredibly intentional in helping to build resiliency in law enforcement, EMS, dispatchers, and any person dealing with a stressful job helping others. Down to every journal prompt, brain dump and action steps.
This journal aims to help first responders build resiliency by encouraging them to write their thoughts on paper and leave them there. By dedicating only 5-10 minutes a day, a first responder can process through the events of their day, whether it is work related or not.
Thinking through stressors of the job and putting them on paper, helps to avoid spillover in first responders (bringing home the job and it having a negative impact on your home life).
You can find Kristen's book A Resiliency Journal for First Responders here and stay in touch with Kristen on Instagram here.
FREE Police Wife Guide- Top 10 Ways to Rock Police Wife Life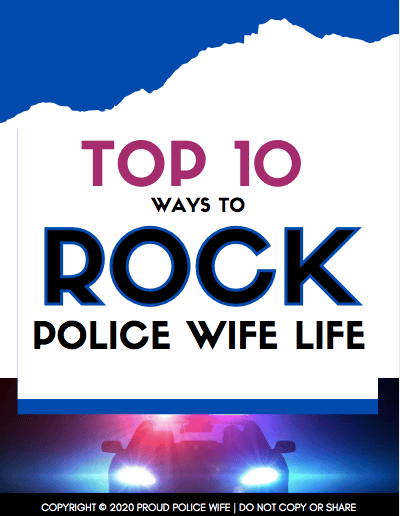 Learn to rock police wife life with these 10 easy tips! Join over 20,000 fellow police wives who are learning to rock it and feel supported with our help each week! Once a week I will provide you with even more ways to feel encouraged and supported for your law enforcement wife journey with my newsletter.
Read my PRIVACY POLICY here.