Have you ever wanted to give money to a first responder fundraiser but hate all the unnecessary fees? Or maybe you can't trust the fundraiser being passed around because there are so many claiming to help the recipient?
Joining me on today's episode is Robert Garland. Robert is a NYPD Detective and the Founder and CEO of Fund the First, a crowdfunding platform for first responders, military, teachers and more.
So what makes Fund the First different than other fundraising platforms?
First, let's talk about the why. Robert started Fund the First because a fellow police officer and friend had a very ill daughter. And when that family was experiencing hardship, Robert wanted to help by setting up a fundraising campaign, like you may often see on social media.
But this family was apprehensive because sadly what happens on many crowdfunding sites, once one campaign starts, many try to create others to benefit off of someone else's hardship. Ultimately taking away from the family that truly needs the help.
So Robert knew there had to be another way so he created Fund the First which is a crowdfunding platform but it is SAFE, VERIFIED, AND TRUSTED.
What makes Fund the First SAFE, VERIFIED, and TRUSTED?
First, Fund the First has a relationship with ID.me verifying the creator and recipient. ID.me is the #1 verification processor in the country making Fund the First campaigns verified and trusted.
In addition, at Fund the First ONLY allows ONE campaign under that recipient's name. You won't see 6 or 7 unauthorized campaigns floating around. This helps you verify that the one campaign you are donating to is the ONLY campaign.
Next, no one connects bank account information if you are receiving funds. Funds are delivered via check to ENSURE the right person is getting the funds they deserve.
Also, Fund the First does not charge any fees except for a small credit card processing fee. No administrative fee, no site fee, etc.
Fund the First is truly the most trusted way for first responders (and more) to give and receive funds that are non-taxed.
Who is Eligible to Use Fund the First?
Fund the First is a crowdfunding platform for First Responders, Military, Teachers, Nurses, Medical Providers, Non-Profits, and all others as long as they can be verified through ID.me and Fund the First.
Follow FUND THE FIRST on INSTAGRAM by going here
Like this episode? Be sure to subscribe to the Proud Police Wife Podcast and leave a review.
Want to stay in touch? Be sure to follow me on Instagram to watch my funny and encouraging reels and check out my IG stories for more behind the scenes.
FREE Police Wife Guide- Top 10 Ways to Rock Police Wife Life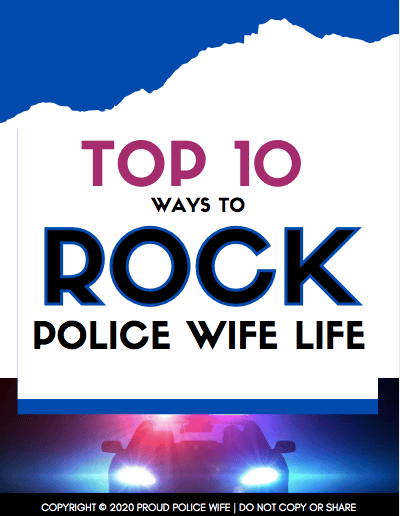 Learn to rock police wife life with these 10 easy tips! Join over 20,000 fellow police wives who are learning to rock it and feel supported with our help each week! Once a week I will provide you with even more ways to feel encouraged and supported for your law enforcement wife journey with my newsletter.
Read my PRIVACY POLICY here.