This blog post is brought to you by National Police Credit Union, a full-service financial institution specializing in products and services for law enforcement and their families since 1938. You can learn more about becoming a member by going to their website at https://nationalpolicecu.com/
If you are reading this then you are more than likely a police spouse, family member or maybe even an officer yourself. And I think we can agree that law enforcement officers and their families make huge sacrifices daily.
Not only that, but police officers take great responsibility to help and serve their communities. Which is why it is so important that police officers and their families are taken care of with the services and providers they use when off the job.
A credit union that provides the same care over your finances as officers do in our communities is National Police Credit Union. I have had the great pleasure of talking with the President and other team members of NPCU and have been thoroughly impressed by their passion to serve our nation's law enforcement and their families. National Police Credit Union is a full-service banking institution dedicated to serving police officers and their families.
They offer exclusive benefits and programs to police that the majority of other banking institutions do not offer. It is what sets them apart and truly allows them to provide services that benefit police and their families.
What Benefits Does National Police Credit Union Provide Police Officers and their Families?
NPCU knows what police officers do on a daily basis, the realities they face, and the sacrifices officers and their families make. That is why they offer unique benefits to their law enforcement members that make them different from regular banking institutions. They want to give back to you and your families for all you do.
These benefits include:
Killed in the Line of Duty Loan Protection
Having peace of mind knowing that if the unthinkable should happen, your loans could be forgiven with this Killed in the Line of Duty Protection Program. This is a complimentary benefit offered up to $850,000 for debt cancellation. Learn more here.
Police Mortgage
Created for police officers with competitive rates! Whether you are looking into an FHA loan, Conventional Loan or VA Loan, NPCU offers low rates and low money down options. The Police Mortgage is also protected under the Killed in the Line of Duty Loan Protection Program.
Uniform Loans
Not every department gives officers uniforms for free and purchasing them for the first time can be pricey. NPCU offers uniform loan assistance with reasonable interest rates.
These are just some of the many benefits National Police Credit Union offers its members. Learn more by going here.
How to Become a Member of the National Police Credit Union
Individuals can become members of NPCU by simply joining here. You can use the NPCU eligibility tool here to see if you are eligible. If you are law enforcement or a family member of law enforcement and your department is associated with the NPCU, or you are a member of an association that is affiliated with the NPCU (like the FOP Lodges and other Police Associations), then you are eligible.
If you are with a department or police association and you would like to be affiliated with National Police Credit Union, you can contact Jim Bedinger, the NPCU President via phone (312-499-8810) or email jbedinger@cpdfcu.com.
NPCU offers services Nationwide across all 50 states. Whether you prefer online banking or going in person to a branch, National Police Credit Union makes it easy to do either with their 5,000 shared branch locations and over 80,000 shared surcharge free ATM locations across the U.S.
Honestly, you really deserve to have your finances looked over with great care from a team of people who support you, know the realities you face, and appreciate your sacrifice. NPCU does all that and more.
FREE Police Wife Guide- Top 10 Ways to Rock Police Wife Life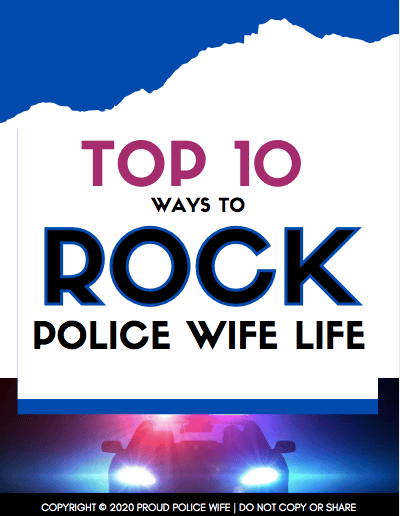 Learn to rock police wife life with these 10 easy tips! Join over 20,000 fellow police wives who are learning to rock it and feel supported with our help each week! Once a week I will provide you with even more ways to feel encouraged and supported for your law enforcement wife journey with my newsletter.
Read my PRIVACY POLICY here.