Today's episode is brought to you by The National Police Credit Union, a full service financial institution specializing in products and services for law enforcement and their families since 1938. You can learn more about becoming a member by going to their website at https://nationalpolicecu.com/
Being the spouse of a first responder brings unique challenges and we bring our own background and experience into relationships. So having resources that not only recognize these unique challenges but also offer support is incredibly valuable.
Finding the right resources for you can be difficult especially during a time of need, that's why I always like to share organizations the first responder community trusts.
Support for The First Responder Spouse
Joining me on this podcast episode is Miranda Dabbs. Miranda is the peer director for the significant others and spouses (SOS) therapeutic retreat through First Responder Support Network.
The sos program helps first responder spouses and significant others learn techniques to manage their own stress or trauma and vicarious trauma they may experience.
This is a one week, in-house program for partners, spouses, ex-spouses, and more of first responders. Miranda discusses with us the common stressors that many people who attend SOS deal with and ways they help the first responder spouse or other participants cope.
Learn more by listening to this episode on Apple Podcasts or anywhere else you listen to podcasts. Or check out the audio at the top of this post.
email: info@frsn.org or phone:415-721-9789
Follow First Responder Support Network on Instagram here
FREE Police Wife Guide- Top 10 Ways to Rock Police Wife Life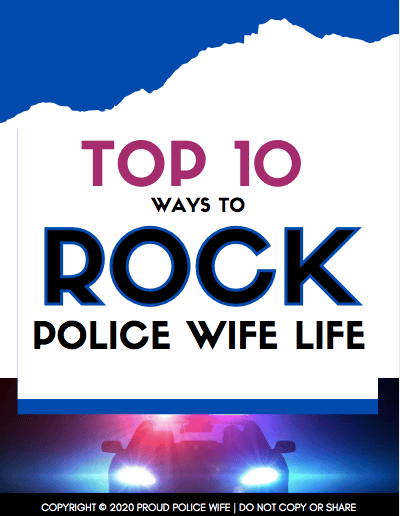 Learn to rock police wife life with these 10 easy tips! Join over 20,000 fellow police wives who are learning to rock it and feel supported with our help each week! Once a week I will provide you with even more ways to feel encouraged and supported for your law enforcement wife journey with my newsletter.
Read my PRIVACY POLICY here.