This post is sponsored by Honor the Brave. All opinions are honest and my own.
My husband and I recently moved this summer to gain more privacy for our family and away from a busy, cookie cutter neighborhood (best decision ever, by the way).
When seeking out a realtor to sell our home and help us find a new one, we went with our long-time local realtor who also happened to be part of a program called Honor the Brave.
I've recommended Honor the Brave to many first responder families before because they have an amazing reputation in the law enforcement community. But we were so excited to finally be able to be part of their program.
Honor the Brave offers something called Brave Benefits to anyone that goes through their program as long as you use an Honor the Brave realtor (if your realtor is not associated with them, that's okay, they can easily get signed up).
Here is how Honor the Brave gives back to you when buying or selling your home:
I want to outline a few key things about using Honor the Brave (these are also common questions I receive).
First, there is NO fee or extra cost to go through Honor the Brave. Yes, you pay realtor fees to your realtor but you will be doing that anyway.
Next, there is no special contract. You simply use your realtor as you normally would and they do the work for you.
To start, you can find a realtor that is already associated with Honor the Brave (they have realtors nationwide). Or if you have a realtor you love, you can see if they would be interested in joining the Honor the Brave family. Either way you can contact Honor the Brave here to find a realtor or get started. Your realtor can still be associated with their regular realty association like Long and Foster, Ulta, Coldwell Banker, etc.
So what are those Brave Benefits?
When you buy or sell your home, your realtor will list it just as he/she normally would. And you will apply for a mortgage loan just as you normally would (Honor the Brave does not give loan assistance).
At the end of the transaction of buying or selling, you simply get money back from Honor the Brave as a THANK YOU for your service. The amount of money you receive depends on the sale price/purchase price of your home.
Plus, Honor the Brave will donate a portion of the sale of your home to a charity of your choice. We personally chose to donate to The Taya and Chris Kyle Foundation because they have been wonderful for our family and marriage in past years.
AND, Honor the Brave will send you a wooden American flag with either a red line, blue line, etc as a thank you once again for your service.
So where does the money come from that they give back to you?
The money actually comes from your realtor. Realtors that agree to work with Honor the Brave GRACIOUSLY give part of their commission BACK TO YOU as a thank you. These are amazing realtors that support first responders and one way that they can say thank you is by giving back.
About two weeks after we closed on both of our homes, we were given a $1,000 check from Honor the Brave, got to give to a charity in the amount of $500 and received this beautiful thin blue line flag.
There was no added stress to us as homebuyers/sellers and we were so appreciative of their support.
FREE Police Wife Guide- Top 10 Ways to Rock Police Wife Life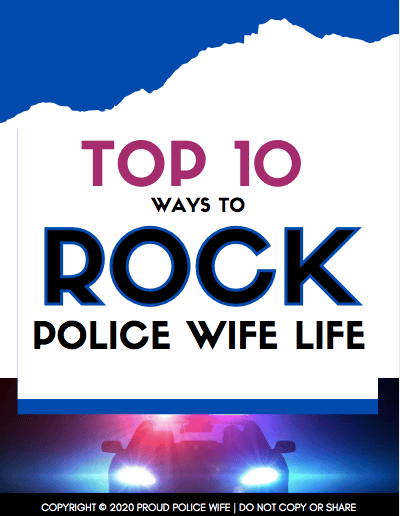 Learn to rock police wife life with these 10 easy tips! Join over 20,000 fellow police wives who are learning to rock it and feel supported with our help each week! Once a week I will provide you with even more ways to feel encouraged and supported for your law enforcement wife journey with my newsletter.
Read my PRIVACY POLICY here.