This post is sponsored by The Police Credit Union. All opinions are honest and my own.
When I think of law enforcement officers one word comes to mind: prepared. They are known for mentally preparing for a situation before it even happens. Police are also physically ready for any situation they may face by either having gear on their person or in their vehicle.
They also always have a plan, then they have a back-up plan, in case that first plan fails or an emergency arises.
And this need for preparedness isn't just while on duty. The idea of always being ready transfers into many areas of a police officer's life, as well.
However, there is one area that we don't hear talked about enough and that is being prepared financially. I get it, money is obviously a very personal topic but so many couples struggle to communicate in regards to their finances, so why are we not discussing this more?
Maybe it is stressful because you find financial conversations confusing or you don't know where to start.
Or maybe finding the balance as to when to have the "heavier" conversations about money is hard after your spouse has worked long hours.
No matter what your financial picture looks like, be sure to take advantage of these three tips specific to law enforcement officers and spouses.
3 Ways to be Financially Prepared as a Law Enforcement Couple:
Have Discussions About Money Often
I'm serious. For some couples, money is a dreaded conversation that rarely happens unless it has to. But the longer anyone waits to have conversations about finances, the more stressful those conversations will become.
My husband and I talk about money every single week. However, it was not always this way. In the beginning of our relationship, talking about money felt like one more thing to do in our day. One more stressful thing, I might add. So it got pushed to the back burner. But in order for us to take steps toward our financial goals, we had to talk about our finances with each other and often.
Here are a few ways to start talking about money with your spouse:
-Discuss one financial goal that you share and how to get there.
-Set clear boundaries for how money will be spent, not spent and how to save.
-Make a goal to sit down together and talk about money a certain number of times per month. I know this makes it feel like a chore, but if you share expenses then it needs to be a common discussion. Plus, the more you talk, the easier it will become.
There are so many ways to talk about money, but these are just a few way to get you started.
See What Kind of Benefits/Incentives Your Banking Institution Offers and Take Advantage of Them
Banks and financial institutions offer a variety of benefits to their members so it is always worth taking the time to see if you qualify for them.
For example, if you are a resident of California and a law enforcement officer, then you qualify to be a member of The Police Credit Union. Their team members are knowledgeable about the challenges law enforcement officers face. They also pride themselves on having a long history of providing financial solutions for California law enforcement residents.
The Police Credit Union has a variety of benefits specific to law enforcement officers (and their families) that many other financial institutions do not offer like:
–End of Watch Debt Forgiveness Benefit:
This complimentary benefit is offered to those who qualify (see if you qualify by going here) and provides peace of mind for families of fallen officers by forgiving debt if a tragedy occurs (restrictions apply).
The Police Credit Union is passionate about giving support to law enforcement members and their families. One way they give support is by awarding five $2,500 scholarships to eligible members who have shown academic excellence. The Police Credit Union accepts applications from October-December each year. This is a benefit open to members who have been with the credit union 6 months or longer.
–Police Trust & Estate Planning Services
I know it can be hard to plan for things like wills, trusts, and estate planning, but with a career in law enforcement, you don't want to leave your family with burdens should an emergency arise.
The Police Credit Union has made it incredibly easy for their members to plan for the future. They have partnered with Affinity Trusts to bring you a discounted estate planning package that allows you to control your assets and family needs.
In addition to these incredible benefits, you would be banking with a financial institution that provides the same protection over your finances that your officer provides to the community. If you reside in California, you can apply for a membership by going here.
Life Insurance
Regrettably, life insurance is something my husband and I put off for way too long. It was an area we just weren't knowledgable in for many years.
But after having children we saw the need for protecting our family due to the high risk associated with my husband's career in law enforcement.
Once we inquired about it, we learned that you can get a great plan for a very reasonable amount of money per month.
The police officer in your life risks so much to protect others, it makes sense to at least explore this option so your family can be protected, too.
Again, law enforcement officers and their families prepare for many situations in life, don't forget to do the same with your finances. It is never too late to take steps towards your financial goals.
FREE Police Wife Guide- Top 10 Ways to Rock Police Wife Life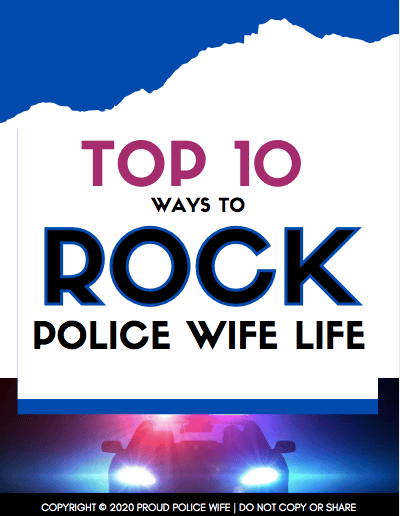 Learn to rock police wife life with these 10 easy tips! Join over 20,000 fellow police wives who are learning to rock it and feel supported with our help each week! Once a week I will provide you with even more ways to feel encouraged and supported for your law enforcement wife journey with my newsletter.
Read my PRIVACY POLICY here.