Today's episode is brought to you by Pictures on Gold.  Pictures on Gold offers personalized police and firefighter jewelry like badge necklaces, earrings and more. Use this link to shop and use code PROUDPOLICEWIFE for $10 off.
When your spouse works a dangerous job mixed with shift work, it is NORMAL to feel happy, excited, emotional or relieved when he/she comes home safely after shift.
I remember many nights where our baby cried all night and I longed for the moment until my husband walked through that door so I could hand him the baby so I could get some sleep.
Or the time I hadn't seen him in days but had the absolute WORST week at work and I basically word vomited the second he walked in the door.
Or that other time there was a critical incident at his work and all I wanted to do was ask him all the questions.
But after time, I realized that my quick actions as soon as my husband walked in the door, wasn't helping him or myself. Instead, it was making us both stressed out.
My husband needed time to decompress from the job and when he wasn't ready to answer all the questions as soon as he walked in the door, I would in turn, get a little frustrated with him.
Here is what I learned to do instead and what you can do to help your police spouse.
3 Ways to Help Your Police Spouse When He/She Comes Off Shift
Allow him/her time to decompress
If you've never read the book Emotional Survival by Kevin Gilmartin then you should. In his book he talks about hyper-vigilance. A hypervigilant state is when our spouses are always on alert, energetic, enthusiastic, and involved because this is what police officers need to do while on the job for their safety. Gilmartin describes this emotion as a rollercoaster because when one emotion goes up, it must eventually come down. Those feelings don't last forever and when officers come off the job their level of hypervigilance decreases but it can take hours for it to be back to normal levels.
Not only is our spouse coming down off the hypervigilant rollercoaster but they may also be processing calls they had that day/night, they are tired and more.
So I can not stress enough how important it is to let our spouses have some time to come off the job at home without being bombarded with questions, stories and frustrations.
As a spouse, I know how easy it is to want to share your day, talk about daily happenings especially when they involve children and more as soon as your spouse gets home.
But giving them just 20-30 minutes to decompress will not only help your spouse but also make you feel more heard when you do sit down for conversations.
And honestly, just go with your spouses flow. If they are initiating conversation first then by all means roll with it. But if they are headed to shower or need to eat first, let them do so quietly. Then look for their cues to start conversation.
Check in with your spouse daily
A daily check-in to see how your spouse is doing and if they need anything, can go a long way. And, let's hope, they are doing this with you, as well. Whether you are in a first responder marriage or not, daily check-ins are beneficial to your relationship.
You can gauge how your spouse is feeling and feel connected especially when you may feel like ships in the night on certain days around shift work.
Ask questions but don't be pushy
When you do talk with your spouse, it is great to ask questions about their day and how they are feeling but sometimes open ended questions like "how was your day" may not spark a lot of conversation. And you may get the typical answer like "it was fine" or "it was long".
Instead, here is a blog post with 12 questions that you can ask your spouse other than "how was your day" to spark conversation.
Also, it's important to remember that our spouses won't always want to talk about what they saw during their shift, right when it happens. It may take days or weeks for them to open up about what they saw on the job because they are processing those experiences. This is normal. So if this is the case, try not to be pushy.
It is better to let your spouse know you are available and ready to listen when they are ready to talk versus being pushy and trying to force them to talk.
Give these tips a try to help your police spouse when he/she comes off shift. It will in turn, help the both of you in your relationship.
Like this episode? Be sure to subscribe to the Proud Police Wife Podcast and leave a review.
Want to stay in touch? Be sure to follow me on Instagram to watch my funny and encouraging reels and check out my IG stories for more behind the scenes.
FREE Police Wife Guide- Top 10 Ways to Rock Police Wife Life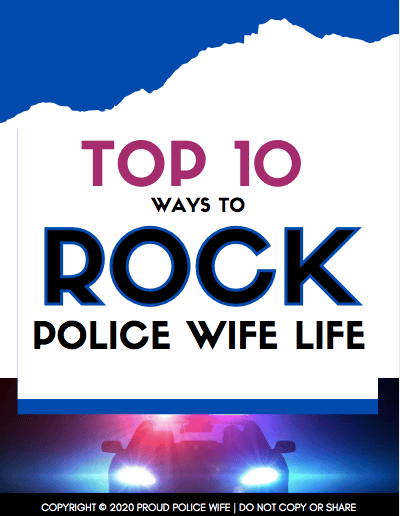 Learn to rock police wife life with these 10 easy tips! Join over 20,000 fellow police wives who are learning to rock it and feel supported with our help each week! Once a week I will provide you with even more ways to feel encouraged and supported for your law enforcement wife journey with my newsletter.
Read my PRIVACY POLICY here.