Sometimes it can be so easy to fall into a routine of asking "How was your day?" when your spouse first gets home or you talk on the phone. Believe me, I do it, too.
But when our officers experience so much just during one shift, that can feel like a loaded question. They don't always open up about their day or that question feels so big that they couldn't possibly answer it. It may be an easy question for normal 9-5ers but for first responders, it is a hard one to answer.
Their days are not always good when they experience crash scenes, missing persons, domestics, etc. Personally, if I experienced what my husband experiences daily, I would not want to answer that simple question, "how was your day?" Truthfully, the answer would be "bad". How can you say your day is "good" when you see so much negativity in the world around you.
Instead, we can find other ways to talk with them and start a dialogue after their day is done. So I've compiled a list of 12 questions that are a bit more direct and help facilitate a dialogue between you and your spouse.
Remember, these questions don't have to be hard. It is about opening a dialogue to TALK. Not always about breaking down huge walls with one question. And they can be any time of day as our officers work crazy hours sometimes.
Grab the All-in-One Police Wife Reference Guide
Grab this handy reference guide for all things police wife! From important dates & events to resources for law enforcement- all in one place! Subscribing also gets you access to my weekly newsletter full of tips and encouragement.
Read my PRIVACY POLICY here.
12 questions to ask your officer other than "how was your day":
1. What was the best part of your day?
2. What is one thing you did well today?
3. Is there anything I can help you with today or tomorrow to make your day go better?
4. Did you see or do anything new today that you enjoyed?
5. Was there anything you did today that makes you feel proud?
6. What made you stay late today?
7. Did you have any funny calls today?
8. Did you have to put out any flames today?
This is a nice or more positive way of asking about anything bad in his/her day.
9. Was your day fairly busy or surprisingly calm?
10. Were you able to make time to eat and drink today?
This is important because it helps your judge how busy his/her day was. If they seem grumpier maybe it is because they haven't had enough to eat or drink or they are extremely tired from a busy day. These are the days you can give him/her some grace.
11. How can I support you this week?
12. If you could do any part of your day over again (good or bad), what would it be?
The goal with these questions is to avoid the oh-so-common conversation:
You: "How was your day?"
Him/her: "Good" (when maybe things weren't so great)
You: "Great. Let's eat and watch a movie" or some other example of a routine conversation that only has about 3-4 sentences before moving on to something else.
Communication can sometimes feel like a struggle between many law enforcement couples. Instead, open lines of communication with these questions and avoid the harder questions like "how was your day?" Keep the questions more positive in nature which can help him/her open up just a bit more and more open-ended vs. one short answer.
FREE Police Wife Guide- Top 10 Ways to Rock Police Wife Life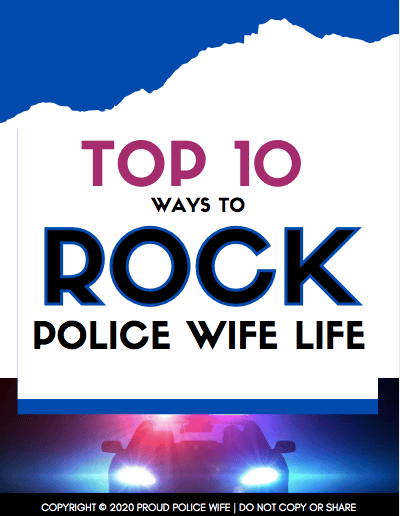 Learn to rock police wife life with these 10 easy tips! Join over 20,000 fellow police wives who are learning to rock it and feel supported with our help each week! Once a week I will provide you with even more ways to feel encouraged and supported for your law enforcement wife journey with my newsletter.
Read my PRIVACY POLICY here.