I always put out articles on deals for Amazon Prime Day and around the holidays from Amazon, but so many of you asked for a post to revisit gifts for shift workers all year long.
So the wait is over!
Oh by the way, as a police spouse, I may be biased, but I highly recommend my newest journal for YOU (the spouse), The Peacemaker's Wife. It is a collection of journal prompts that relate to police wife life and give you encouragement while helping you reflect. You will absolutely love it! Don't believe me? Check out the reviews here.
Great gifts for shift workers for any time of the year:
This is the TOP gift I would recommend for any officer. It warms their food quickly and right in their car!
This is a book that comes highly recommended! Every officer and spouse should own a copy!
This is the ultimate video doorbell with motion-activated alerts. We LOVE ours!
This is really inexpensive and super cute for any nurse.
A great gift for any police, fire or EMS worker. It is a self-defense pen and window breaker.
We own this exact sound machine and love it. We love how to can carry it with us when traveling and it puts out some major sound. Great for those daytime sleepers!
This is a more stylish lunchbox that is insulted and keeps food warm/cool for a long time.
Here is a more tactical looking, insulted lunchbox perfect for shift workers.
This is a great small gift item or stocking stuffer item.
This is a really unique gift for anyone in law enforcement.
https://amzn.to/31uTEfM
I know some don't like to advertise that they have a night shift worker in the home, so you could always use a sleeping baby sign as an alternative.
It can be difficult for shift workers to get adequate sleep so something like a smartwatch is a great way to track sleep and other aspects of your health.
I have a pair of these and they are incredible! Did you know the light from your phone, TV, computer screen at night are really bad for you? They can actually signal to your body that you should stay awake which is incredibly hard for shift workers. Blue light glasses help block light from screens making for better sleep, less headaches and less blue light to your eyes and brain.
Looking for more gifts for shift workers? Check out these favorites.
Great gifts for law enforcement coworkers
Little to no cost gifts for police officers
FREE Police Wife Guide- Top 10 Ways to Rock Police Wife Life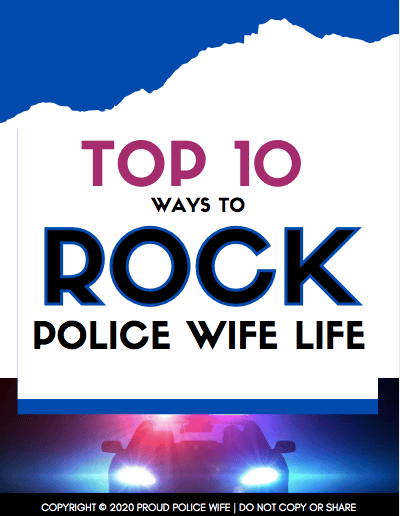 Learn to rock police wife life with these 10 easy tips! Join over 20,000 fellow police wives who are learning to rock it and feel supported with our help each week! Once a week I will provide you with even more ways to feel encouraged and supported for your law enforcement wife journey with my newsletter.
Read my PRIVACY POLICY here.