I know some people aren't fans of Amazon so if that's you then this isn't the post for you and that's okay 🙂
But if you do shop at Amazon, then check out the deals below. But I'll say this, don't ever buy something just because it is on sale. But if you were already looking for certain items and they are on sale- great!
I have been an Amazon Prime member for y-e-a-r-s. I totally LOVE it as it saves me so much time and hassle.
Once a year, Amazon has this AH-MAZING sale for almost 48 hours. This year the sale is the longest it has ever been, which is exciting! It begins at MIDNIGHT PST on Tuesday, July 11th, and goes through Wednesday, July 12th end of day.
The only catch is- you have to be a PRIME member to get these exclusive deals.
Click here if you want to join– it is SUPER easy. I started with a 30-day free trial and never looked back! By the way, if you have an email address ending in .edu then you can sign up for a FREE 6-month trial of Amazon Prime Student. You can sign up for a STUDENT account here.
Tip: Be sure to "Watch" for amazon prime day deals by clicking the "Watch Deal" on Amazon for anything that you are interested in purchasing. It will alert you when those deals are available and for how much.
Another awesome tip: Download the Amazon app if you don't already have it. I find it makes looking at amazon prime day deals and watching a lot easier. I just simply click on my app and it refreshes my deals each time!
Note: I will be updating this list ALL day, BOTH days (for the full 48 hours) as deals sell out and new deals post, so be sure to check back frequently! I will cross out deals as they expire.
Also, because this is a law enforcement blog, I tend to share more items that law enforcement families may need (black-out curtains, hot logic mini car food warmer, etc). But towards the end, I will share other great deals that many of you asked me to look out for and ones I've personally used and have shared in my Instagram stories before.
Another tip: some items have coupons that get you additional percentages off. If you see the coupon button under the price of an item, be sure to click it and the percentage will come off at checkout.
Let's get started!
Amazon Prime Day deals (law enforcement related):
Proud Police Wife: 90 Devotions for Women Behind the Badge– THIS IS MY NEW BOOK WITH AMAZING REVIEWS!
Behind the Badge: 365 Daily Devotions for Law Enforcement by Adam Davis
Patrol Car Bag– this is great for placing in the front seat to organize papers, pens, cuffs, emergency equipment and more.
Thin Blue Line Wall Mount– this is a storage rack for gear and vests.
Coat and Shoe Rack– great for hanging gear, storing boots and more.
Dress for police ceremonies, graduations and more– comes in a variety of colors
Sleep Eye Mask– this is the eye mask that Lt. Col. Dave Grossman recommended during the Police Wife Conference
Car Cleaning Gel– great for patrol cars
Weighted Heating Pad– great for long days after wearing bulletproof vests, gear and days on your feet.
Weighted Blanket– great for all seasons to provide a better sleep.
Coredy Robot Vacuum– this is the exact one I own. I love it and sadly, I paid much more for mine. It is Alexa compatible and has a mop attachment. This makes those crazy night shift weeks easier with chores around the house.
Hot Logic Mini– portable food warmer- this is the cheapest I have EVER seen this!
Tactical Gear Bag– great for patrol cars or the range
Blackout curtains- very good deal!
Nicetown Brand Blackout Curtains– over 50,000 positive reviews
G2 Pens– my husband loves these for work
Liquid IV– I share about this in my lunch idea videos. My husband puts one in his water bottle each day.
Sleep Eye Mask– this is the eye mask that Lt. Col. Dave Grossman recommended during the Police Wife Conference
Dohm Sound Machine– this is the one we own and love it!
Air Fryer– need easy meals that work with shift work? The air fryer saves so much time!
Metal Clipboard with Storage-perfect for road officers
Patrol Car Organizer for Trunk or Front/Back Seat
Robot Vacuum Cleaner– compatible with Alexa and has a mopping system- this is the one we have and love it!
Rock Painting Kit– so great for thin blue line rocks like in this post!
Black Socks-Gold Toe Brand
White Undershirts– Calvin Klein
Navy Blue dress– perfect for police ceremonies
Blue and Black Knee Length Dress
Plus Size Sweetheart Lace Dress
I Love a Cop Book by Dr. Ellen Kirschman
Blink Mini Indoor Home Security Cameras– AMAZING DEAL!
Tough Hook – tactical gear and uniform hanger
Bose Noise Cancelling Headphones
Dress Ideas for Police Graduations, Parties and more:
Casual Black Dress– love this one!
Black V-neck dress with pockets
Black Long-Sleeve Pleated Dress
Other requested deals/some favorites:
Cordless Stick Vacuum by Shark
Banzai Water Bounce House with Slide
Meat Chopper that I've shared on IG
Kid Craft- rainbow scratch paper
Have fun shopping and be sure to tell me the awesome deals you got! Feel free to share them (and tag me) on Instagram.
FREE Police Wife Guide- Top 10 Ways to Rock Police Wife Life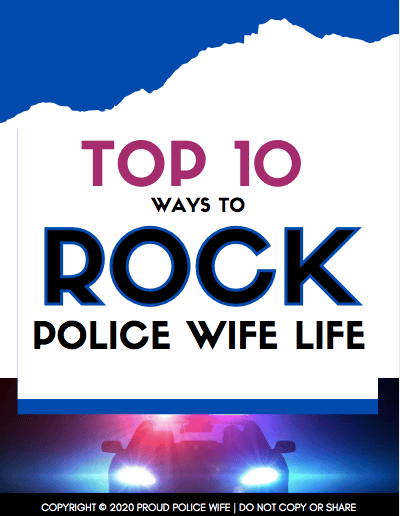 Learn to rock police wife life with these 10 easy tips! Join over 20,000 fellow police wives who are learning to rock it and feel supported with our help each week! Once a week I will provide you with even more ways to feel encouraged and supported for your law enforcement wife journey with my newsletter.
Read my PRIVACY POLICY here.