My husband's department is smaller in comparison to major cities or jurisdictions. So in his unit they usually exchange gifts as an entire unit or they will do a secret Santa during the holidays. Often times he will also purchase a gift for his immediate supervisor or "the higher ups".
I feel like there is "pressure", on me, every year to help him figure out what to get his squad that is unique. Haha. I scroll through Pinterest for hours but only come across more expensive gift options. Typically we are buying the same gift for multiple people. If that is the case for you, be sure to check with any smaller company you are buying from because they will often give you a bulk rate (if more than 5). It is always worth it to ask.
So over the years we have taken mental note of great gifts he has received or ones that he has given and were a hit.
Here are 8 awesome gifts police coworkers are sure to love:
Bottle Breacher Bottle Opener. This is made from a 50 Cal Bullet and it can be engraved with a last name or badge number. This is a gift my husband has loved and uses frequently. It is amazing quality and their site often has coupons and sales.
Image credit goes to Bottle Breacher
Ben shot, shot glass or thin blue line bullets rock glass. These are beautiful shot or drinking glasses with bullets through them. They are super unique. We have the thin blue line version and it is held up very nicely. This is a great gift if you are only buying for a small number of people or for a Secret Santa.
Image credit goes to BenShot
Gerber Red (or Black) Dime Multi-Tool. This butterfly tool is a great multi-functional, practical gift. It is a great way for any male or female to stay prepared and it can attach to a keychain.
Image Credit goes to Gerber
Gerber Impromptu Tactical Pen. This is a gift I recommend for one person, like the Sheriff or direct supervisor. This is a true tactical pen made from steel and can withstand any elements. It also has a built in glass-breaker tip for any emergencies.
Image Credit goes to Gerber
DIY Rustic Thin Blue Line Ornaments– you could also use these as gift tags. Check out how to make these here.
Go Magnets. Go-magnets are gun mounts that are magnetic. They hold most guns up to 15 lbs. for easy storage. This is a great idea while traveling. You can easily place the magnet and gun under the steering wheel for safe storage and easy access. My husband loves his!
Image credit goes to GO-Magnets
Tactical tourniquet. This is a necessity. It is one that attaches to the duty belt, is lightweight and doesn't get in the way.
Pocket Clip Light. This clips anywhere on the officer or the car visor, it is rechargeable with a USB. It also comes with a white and red light. My husband doubles up and uses it for hunting, too. These can run more than $20, so I suggest them for a Secret Santa gift or a supervisor.
Black Rifle Coffee– either ground or K-Cups. What officer doesn't love coffee and need some help feeling energized on the job? Their coffee is absolutely delicious!
BONUS: Restaurant gift certificate. Ideally this would be for a restaurant the officer can eat ate while on duty. Even $5 for each officer would be appreciated!
Any of these gifts would be amazingly thoughtful for your officer's coworkers. And truly, these are great for any time of the year, not just Christmas.
If you use one of these ideas, be sure to share with us or tag us on social media!
FREE Police Wife Guide- Top 10 Ways to Rock Police Wife Life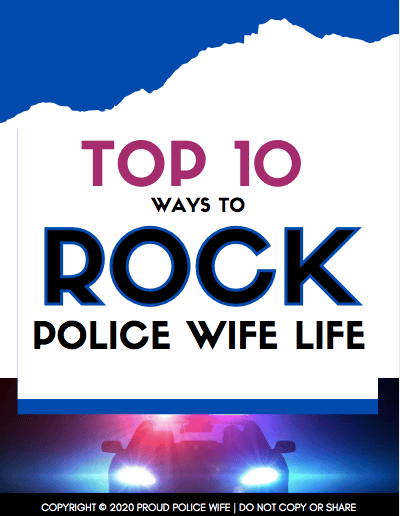 Learn to rock police wife life with these 10 easy tips! Join over 20,000 fellow police wives who are learning to rock it and feel supported with our help each week! Once a week I will provide you with even more ways to feel encouraged and supported for your law enforcement wife journey with my newsletter.
Read my PRIVACY POLICY here.