National Police Week is normally held every year in May in Washington, DC. May 15th is designated National Peace Officer's Memorial Day and the dates of National Police Week change slightly but are always during the week of May 15th.
Police Week is a time to honor and remember those who lost their lives in the line of duty. As well as, give support to the survivors and law enforcement who currently serve.
However, due to restrictions, in-person events can not be held as normally scheduled during May 2021. Instead, all in-person events for National Police Week will be rescheduled to October 13th-17th, 2021.
Concerns of Police Survivors and the National Police Week team will still show the same honor and remembrance in October as they would in May.
For more details, you can check out this statement from Concerns of Police Survivors regarding the postponement of Police Week.
Does this mean we don't celebrate Police Week in May as in years past?
Not at all.
What this means is:
-Local events can still be planned across the country. Many departments will still hold honor and remembrance ceremonies and give support to survivors as originally planned during Police Week in May. Spousal groups and the community may also give their support during this time.
-Virtual events will still be planned by organizations, as well. More information on these events will be announced soon and an update will be posted here.
Just in-person events such as: The Candlelight Vigil, National Police Survivors' Conference and FOP 40th Annual National Peace Officers Memorial Service in Washington, DC will be postponed to October.
Both in-person, local and virtual events in May and October will honor and remember fallen officers from 2019 and 2020, as well as, making sure survivors are also given proper support.
Need help planning ways to honor and remember the fallen or give support to law enforcement during Police Week in May? Check out these posts below.
FREE Police Wife Guide- Top 10 Ways to Rock Police Wife Life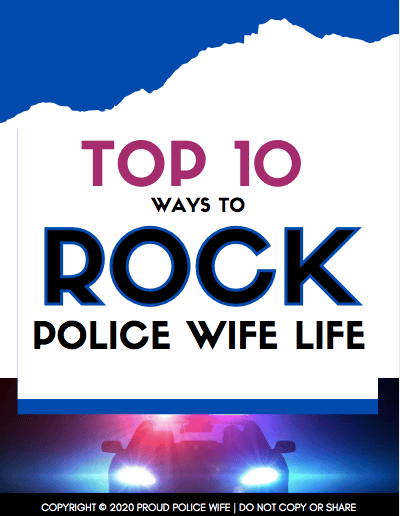 Learn to rock police wife life with these 10 easy tips! Join over 20,000 fellow police wives who are learning to rock it and feel supported with our help each week! Once a week I will provide you with even more ways to feel encouraged and supported for your law enforcement wife journey with my newsletter.
Read my PRIVACY POLICY here.