Does the thought of making dinner after a busy day and rotating shifts make your head spin? Ever wonder why some people have it all together when it comes to meal planning while some of us are just lucky to have made it to a drive-thru? Have you ever thought about having meals planned out for the week ahead and how it can make your life easier?
Meal planning as a law enforcement family can actually be stress free while saving time and money.
As police wives, we want to feel organized each week especially with crazy schedules in law enforcement. You probably want meal time to be worry free and not a constant scramble at 5 pm. Wouldn't it be nice to make meals each night that your officer can have later or reheat for the next day he is on shift? What about having your officer pack meals & snacks while on shift so you can save money on eating out? Or if it is just you (& maybe your kids) then dinner is not overwhelming because it is already planned.
Believe me, I've been there too.
Seven years ago I was eating out on my way home from work or eating scrambled eggs 3x/week on the nights my officer was working. My husband would go all shift either eating nothing (because he didn't pack anything) or would hit a drive-thru on the way home (because he was starving). Meal planning was non-existent in our home. I would go to the grocery store every weekend but I only bought ingredients that I intended to make. I had no plan on how to piece those ingredients together to make an actual meal. When it came time for dinner, I would then stare into the fridge wondering what to make. I would feel lost and because my husband was working and I didn't want to make a meal for one person so I would resort to my usual scrambled egg dinner. I never knew what type of meal to make that would work for the law enforcement schedule my husband had. We were wasting money, time and feeling stressed at every meal.
Once we had children nearly 6 years ago, I knew we needed to make a change. I wanted healthier, planned out meals that my husband could eat whenever his shift ended. I wanted to stop wasting money & time. I wanted to actually know what we were eating before 5 pm rolled around.
Get your FREE meal guide!
Does meal planning around shift work stress you out? What about packing a lunch while your officer is on shift? Join over 2,000 fellow police wives and download your FREE meal guide to reduce stress now!
I tried various meal plans from the internet but none of them ever worked for us. The reason they failed for us is because they never took into account the lifestyle we live as a law enforcement family. They never worked for rotating shifts or schedule changes. They never took into account meals that needed reheating or "no heating" because my officer spends so much of his day in his patrol car.
And that's how the ULTIMATE Meal Planning Guide was born! The Meal Planning E-Bundle is tailored to the law enforcement life perfectly and will give you step by step directions on how to successfully meal plan/prep! You'll learn not only to plan in advance, but how to plan around or with your officer's schedule and have less stress when it comes to being in the kitchen. It is possible to feel prepared and organized when it comes to meal time in your law enforcement life and with the ULTIMATE Meal Planning Guide I will show you how.
Here are a variety of printables included in the bundle:
If you are ready to finally get a handle on meal planning consistently, then be sure to purchase your Meal Planning Guide today. Take control of your meals, time & schedule all while living the law enforcement life!
FREE Police Wife Guide- Top 10 Ways to Rock Police Wife Life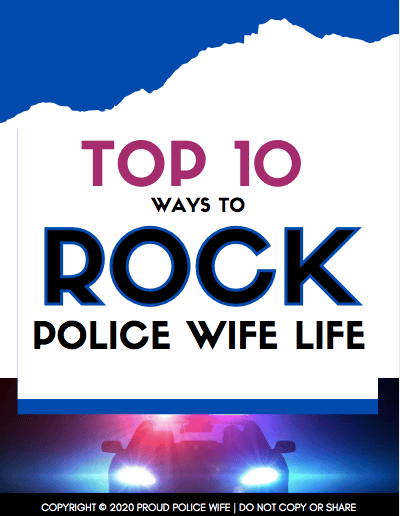 Learn to rock police wife life with these 10 easy tips! Join over 20,000 fellow police wives who are learning to rock it and feel supported with our help each week! Once a week I will provide you with even more ways to feel encouraged and supported for your law enforcement wife journey with my newsletter.
Read my PRIVACY POLICY here.