**The ULTIMATE Meal Planning Bundle for Law Enforcement Families is finally here!! It is jam packed full of tips, tricks, printables, and guides to help you successfully meal plan for your law enforcement family. You don't want to miss it! Grab your copy here!**
I try my hardest to make as many meals as I can that my police officer can take to work with him. IT. IS. NOT. EASY. He tires easily of sandwiches, salads aren't "enough", and he often can't eat his meal in one setting if he has to go to a call. I got tired of opening his lunch box at the end of a shift and STILL SEEING IT FULL. So I had to change it up a bit and my girls LOVE to get involved in packing daddy's lunch! I also encourage him to make his own lunch from time to time because I run out of time and hands on some days. 😉
Let me just say, I don't succeed everyday at sending my hubby off with a delicious, healthy meal. Life gets in the way. However, I certainly try. I try because I don't want to spend an arm and leg every week on him eating out. I also want him to be healthy but have a full stomach. With this line of work, it is important for our officer's to stay healthy. I want him to eat a nutritious, yet good tasting lunch each day. Over the years I have learned a few helpful tips just by trial and error.
Here is how you can MEAL PREP for your law enforcement officer:
FREE Police Wife Guide- Top 10 Ways to Rock Police Wife Life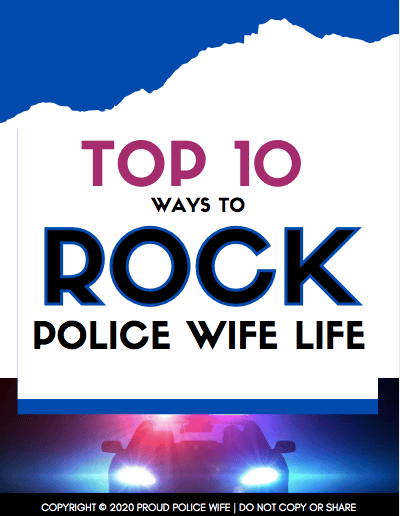 Learn to rock police wife life with these 10 easy tips! Join over 20,000 fellow police wives who are learning to rock it and feel supported with our help each week! Once a week I will provide you with even more ways to feel encouraged and supported for your law enforcement wife journey with my newsletter.
Read my PRIVACY POLICY here.