This is a sponsored post on behalf of The Police Credit Union of California. All opinions are honest and my own.
If there is one thing that I know about law enforcement officers (and their spouses) is that they like to be prepared. That preparedness comes in many forms. In your career, at the range, while driving, the safety of your home, the protection of your family, just to name a few.
But let's not forget about your finances. Being financially prepared and banking with a financial institution that cares about the same level of preparedness with your money as you do is important.
If you reside in California and you or your spouse are in law enforcement, then you are eligible to become members of The Police Credit Union of California.
Let's talk about what makes The Police Credit Union of California so beneficial for law enforcement officers.
Benefits of Banking with The Police Credit Union for California Law Enforcement Officers
First, it is important to do your research.
Not many banks offer benefits to those in law enforcement so it is important to do your research and see what added protection/offers you could receive.
If member benefits are important to you and you are a California law enforcement officer, I recommend looking into the benefits offered by The Police Credit Union.
Exclusive Benefits Offered by The Police Credit Union
End of Watch Debt Forgiveness Program
I know this is a topic many probably don't want to think about. But if something were to happen to the law enforcement officer in your life, you would absolutely want protection and a benefit like this.
If you have loans (over $10,000) through The Police Credit Union then they are eligible to be forgiven if there was a tragedy and loss of life.
I don't know of many other financial institutions that offer a benefit of this kind, but The Police Credit Union of California does. It offers great peace of mind for no additional cost to you as a member.
To learn about the specifics of this complimentary benefit, you can visit their website here.
Scholarships
I get emails almost monthly asking about scholarships for law enforcement officers wanting to finish their degree, for their spouses and/or their children.
The Police Credit Union of California is proud to offer scholarships to its members each year, accepting applications from October through December. The credit union has recently extended eligibility to graduate students in addition to undergrads. 
You can learn more about scholarship eligibility requirements by going here.
Estate Planning
Did you know that everyone can benefit from estate planning and having a living trust? You only need to have possessions and/or money (which almost all of us have) and a desire to plan what happens to your money and/or possessions if something should happen to you.
This is just another way to be prepared financially similar to the way law enforcement officers prepare on the job.
Many times throughout the year The Police Credit Union offers webinars and informational sessions with their trusted partners so their members can learn about estate planning. In addition, members get discounted estate planning services with The Police Credit Union's trusted partners.
You can learn more about this benefit from The Police Credit Union here.
Public Safety Assistance Loan
Need new uniforms, gear, and supplies and your agency doesn't cover the cost? The Police Credit Union also offers a Public Safety Assistance Loan for up to $7,500 for their members. Learn more here.
In addition to these amazing benefits The Police Credit Union is Federally Insured by the NCUA and offers banking services like mortgage loans, car loans, and more!
FREE Police Wife Guide- Top 10 Ways to Rock Police Wife Life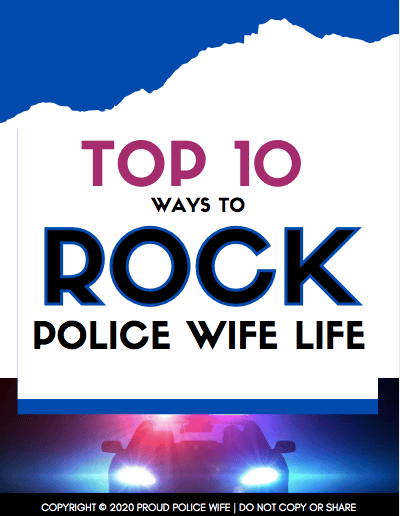 Learn to rock police wife life with these 10 easy tips! Join over 20,000 fellow police wives who are learning to rock it and feel supported with our help each week! Once a week I will provide you with even more ways to feel encouraged and supported for your law enforcement wife journey with my newsletter.
Read my PRIVACY POLICY here.