This is a sponsored post on behalf of Tactical Baby Gear. All opinions are honest and my own.
When our oldest child was born, I wanted all these cute accessories that matched the theme of her room. Bad idea- just bad. I quickly got tired of that theme and color scheme because I saw it alllll the time and when it came time for our second baby, I wanted all new baby gear because I was using a different theme/color scheme with the new baby. Can you say expensive?
More recently, we changed up our baby gear to something a bit more tactical, meaning something both my husband and I wouldn't mind carrying and has a neutral color palette. Out with the old girly diaper bag and in with the new practical one.
Both my husband and I are happier because everything is stored in one easy-to-access bag, he isn't embarrassed to carry it and it matches everything else we own.
Tactical Baby Gear not only has durable, well-made diaper bags, but they also have baby gear for police families that any dad or mom would love!
Here are our favorites!
Must-have baby gear for police families:
Tactical Baby Gear makes neutral in color baby carriers perfect for the police dad! They offer 4 different colors: black, camo, ranger green and black camo.
It comes with a removable washable liner (kinda helpful for spills or ya know, baby blow outs), is adjustable and is MOLLE compatible which makes attaching any accessories super easy.
We own both the Tactical Diaper Bag and the Backpack. Both have a ton of room, extra zipper pockets for more space and you can attach just about anything and everything using the MOLLE system.
I like throwing this diaper bag over one shoulder for comfort and it is primarily the diaper bag I use if my husband is working. I even keep my laptop in it in case I have work to do while the kids are at practice or the playground.

Grab the All-in-One Police Wife Reference Guide
Grab this handy reference guide for all things police wife! From important dates & events to resources for law enforcement- all in one place! Subscribing also gets you access to my weekly newsletter full of tips and encouragement.
Read my PRIVACY POLICY here.
This diaper bag version is my husband's favorite. If we are out and about, my husband is the one to carry the backpack and, believe me, he does not mind one bit. It looks just like any other backpack he would normally buy.
If we are in a police friendly area, then he velcros the Thin Blue Line patch on (also from Tactical Baby Gear), if not, he replaces that patch with the Dad patch they also offer.
Another great thing about Tactical Baby Gear is the number of accessories they offer. Many accessories come with the "combo" versions of the diaper bags but you can also purchase them separately. Our three personal favorites are the tactical wipes pouch, dump pouch and tactical bottle pouch (that we also use for sippy cups).
Tactical Wipe Pouch
The wipe pouch can easily be attached to any diaper bag using the MOLLE system. It fits many, many brands of wipes with ease and of course comes in a variety of colors to match your diaper bag.
Dump Pouch
This is a parent game changer right here! A dump pouch is exactly what it sounds like- a pouch for dumping dirty diapers. This helps you to avoid messes and keeps the stink out of your diaper bag, car and stroller.
I couldn't write this post without sharing this accessory- more like a necessity! This is next on our list to purchase. It is a kit that comes with a diaper, 5 wipes, changing pad and trash bag for any diaper emergency!! Genius!
Overall, my husband and I give this baby gear an A+ and we won't be buying any other brand baby gear again! With multiple trips, carrying heavy water bottles and items for three children, our diaper bags have withstood it all.
FREE Police Wife Guide- Top 10 Ways to Rock Police Wife Life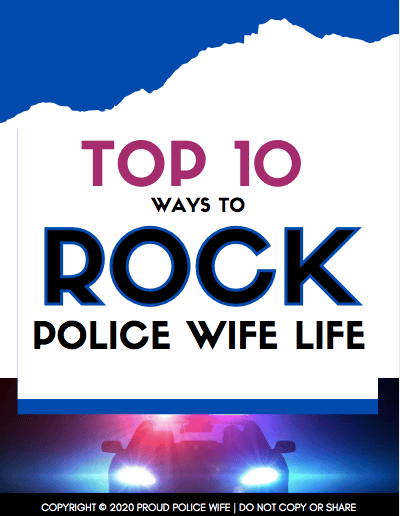 Learn to rock police wife life with these 10 easy tips! Join over 20,000 fellow police wives who are learning to rock it and feel supported with our help each week! Once a week I will provide you with even more ways to feel encouraged and supported for your law enforcement wife journey with my newsletter.
Read my PRIVACY POLICY here.