This post is sponsored by Tactical Baby Gear. All opinions are honest and my own.
My husband has always been a super hands-on dad and he loves to take our kids out for little day trips including Lowe's, our local tractor supply and Bass Pro Shop. But let's face it, when our first daughter was born, he didn't exactly want to carry around my flower patterned Vera Bradley diaper bag. And I can't quite blame him.
My husband is in law enforcement, drives a large truck, loves to be outdoors and hunts in his spare time so flower bags weren't exactly his style. My husband needed a practical diaper bag (one that I KNEW he would carry) and he would be comfortable using especially when he takes the kids out by himself while I work on the blog on his days off.
Now that we have three little ones we have to be prepared and pack as many snacks, diapers, wipes and spare outfits for even the quickest of outings. That's when we found Tactical Baby Gear– the most tactical diaper bags and baby carriers designed with tough in mind.
Baby gear that is tactical and practical for every dad:
Tactical Baby Gear has diaper bags, baby carriers, and accessories for every tactical dad (or mom). What my husband likes is that they are available in neutral colors like black, camo or tan. We went with the Black Camo color option.
We love the TBG Daypack 2.0 Combo Set. It comes with the daypack bookbag, wipes pouch, built in drop-zone changing mat, and dump pouch (portable trash can). The daypack has strong, durable handles on the sides and top of the bag.
My husband likes the molles which are black loops to easily hang or attach pacifiers, keys, the wipes pouch and anything else you can think of.
It also has the velcro area at the top of the bag that allows for any patch to be attached. Pictured below is the thin blue line patch but if you don't want to advertise that you are law enforcement then the daddy patch works great, too!
Grab the All-in-One Police Wife Reference Guide
Grab this handy reference guide for all things police wife! From important dates & events to resources for law enforcement- all in one place! Subscribing also gets you access to my weekly newsletter full of tips and encouragement.
Read my PRIVACY POLICY here.
Another great feature is the bag zips open completely for easy access to the inside compartments. It has over 10 individualized compartments and zipper pouches.
Personally, we also love the humor that Tactical Baby Gear has added into their products. You or your spouse can be ready for "doodie" with this "Drop Zone-Stand Clear" changing mat. It is padded with foam, folds up nicely and has a convenient storage pocket for extra diapers. But there is also one built into the back of the daypack and easily detaches with velcro and a zipper.
This Tactical Wipe Pouch holds a regular-sized package of wipes and it easily opens with velcro. It also has snap buttons on the back side to attach easily to the backpack or diaper bag of your choosing. Bonus, it is water-resistant making it super durable.
It might sound silly, but this is my favorite accessory that comes with the DayPack 3.0 Combo Set. It is the Dump Pouch. Unzip this baby and it is your instant trash can with a drawstring to close up those stinky diaper smells. If there is no trash can nearby, we just dump a dirty diaper in there, empty it when we get home and throw it in the wash and it is good as new.
I honestly can't tell you enough how impressed my husband and I both are with the quality of all Tactical Baby Gear products. They are extremely durable, well-made and rugged. I love the convenience of the DayPack (bookbag) and I've been using it just as much as my husband.
Tactical Baby Gear also has baby carriers that dads love. The diaper bag combo sets or carriers are the perfect Father's Day gift, too. Use code: FATHERSDAY2019 for 20% off your Tactical Baby Gear purchase.
FREE Police Wife Guide- Top 10 Ways to Rock Police Wife Life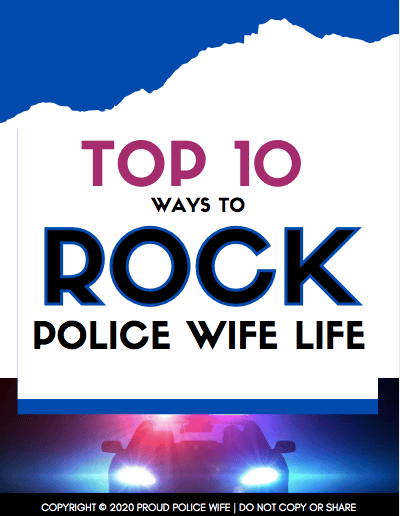 Learn to rock police wife life with these 10 easy tips! Join over 20,000 fellow police wives who are learning to rock it and feel supported with our help each week! Once a week I will provide you with even more ways to feel encouraged and supported for your law enforcement wife journey with my newsletter.
Read my PRIVACY POLICY here.