Before we dive in, I want to remind you to if you liked today's episode or past episodes, please be sure to leave a rating or review wherever you listen to podcasts. You can also grab my newest book Proud Police Wife: 90 Devotions for women behind the badge anywhere books are sold for further faith based encouragement.
After experiencing every shift possible over the last 17 years with my husband in law enforcement, I can confidently say there are truly pros and cons to each shift.
There are so many pros and cons to every position he has had in his career, as well.
There are situations that my family and I view as pros and that my family views as cons, that may be viewed differently for your family. You may not have the same pros and cons list as us and thats okay.
The point here is that the grass is not always greener on the other side. I know that sounds cliche´but always wishing for a shift change and waiting for things to get easier may not be realistic.
Let me explain…
I remember waiting and desperately hoping for the day my husband would come off night shift and move to day shift. The day I found out he was switching, I cried tears of joy (I was a tired mom of a newborn, okay, don't judge). But then here is what happened…
I hated it. We all did. He was waking up at 3 or 4 in the morning and not getting home until 7 or 8 at night. Only for him to come home, eat dinner, shower and go to bed to do it all over again. It was ended up being worse than the previous shift he had.
How to Embrace Every Shift as a Police Wife
So I realized fairly early on that there was no perfect shift. As our family grew or I changed careers or the needs of our family changed, there were always going to be pros and cons of every shift based on what season of life our family was in.
I had to stop being in a season of always waiting. What that season of waiting really turned in to, was a season being wasted.
I was waiting for easier days, waiting for more time with my husband, waiting for shift changes, etc.
I failed to embrace the right now.
We will always live in the state of waiting and wasted if we fail to embrace the moments we are in now. It doesn't mean we have to love the journey we are on. It doesn't mean it won't be hard.
What it does mean is that we should try to find some pros for what we are going through right now.
Are there benefits to the shift your spouse is on right now? Are there pros to their current position? Are there good benefits the job provides for your family?
And friends, I get it. Sometimes we have to look DEEP to find those pros. But if we can at least learn something from where we are at right now or see some positives then we are less likely to become resentful of the job and our spouse that chose this job.
Start by making a list of gratitude. See what pros you can come up with for the current shift and season of life you are in. Refer back to it when those days are hard and I hope that can help you embrace where you are right now.
FREE Police Wife Guide- Top 10 Ways to Rock Police Wife Life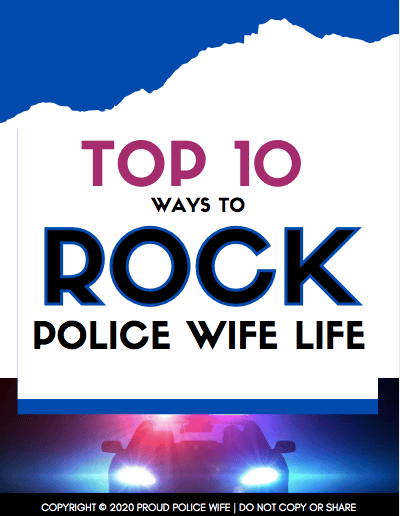 Learn to rock police wife life with these 10 easy tips! Join over 20,000 fellow police wives who are learning to rock it and feel supported with our help each week! Once a week I will provide you with even more ways to feel encouraged and supported for your law enforcement wife journey with my newsletter.
Read my PRIVACY POLICY here.