Special thanks to Verizon for loaning me the Wonderboom to review!
Mother's Day is almost here and if you are in a rush to grab a gift for your police wife then look no further! My original Mother's Day gift post is loaded with sentimental gift options, but I couldn't resist sharing a few more!
Ya know, once my husband and I started having children, holidays really changed for us. The meaning of them, that is. And as we grow older, we realize that memories are what matter to us the most. While we do still give each other tangible gift items from time to time, it is not nearly as often as it was pre-children. So when we do give tangible gift items, they are ones that we truly want or need, something that will make life a little easier, or things we know our spouse would not buy for themselves.
Isn't it funny how gift giving changes as you change? I mean I would have never have asked for a vacuum in my 20's- NEVER! But as I approach my mid-thirties, you know what? A vacuum looks a tad bit enticing. I need a good floor cleaner that will quickly pick up smashed cereal from in between the grout on my tile floors. It will save me time and headache, for sure! You get what I am saying, right?

Grab the All-in-One Police Wife Reference Guide
Grab this handy reference guide for all things police wife! From important dates & events to resources for law enforcement- all in one place!
But without further ado, here are a few more recommendations for this Mother's Day:
Encourage your spouse to practice self-care and have time to herself with a copy of The Peacemaker's Wife. It is a journal for police wives to help encourage reflection and self-care. It is full of writing prompts and pages for reflection and writing.
You can check it out on Amazon here.
A house cleaner
In all seriousness, this is a God send. It is like setting the reset button on your home. Give your wife a break and time off from doing it ALL. Speaking from experience, it is easier to keep up with house cleaning for the first week or two after the house is thoroughly cleaned, too. Many companies provide deals for first time customers, also! Check it out- your wife will love you!
An electronic device like the UE Wonderboom
The Ultimate Ears Wonderboom from Verizon is a portable, easy to use bluetooth speaker. Don't let the small size confuse you- it has GREAT sound! It is drop resistant and waterproof and retails for just under $100. It comes in various colors like black, pink, and blue to name a few.
My family and I are always busy, whether it is to sports practice or bbq-ing in our backyard and one thing is for sure, we are always listening to music! The Wonderboom allows you to spend time with family and the wireless technology helps add to the fun! We had a ton of memories singing and dancing with our kids because of this wireless speaker and it was great!
Verizon says it has "up to 10 hours of playback on a single charge", so of course, we had to test that out. We used it primarily for music while we were doing yardwork or chores around the house over the span of one week. My husband also listened to an entire hockey game on it. We were impressed because it lasted a total of 16 hours on one single charge!! Which makes me happy because I always seem to "forget" to charge things. 😉
To use it, connect it to any bluetooth device- SUPER easy! I highly recommend the UE Wonderboom if you are a gadget junky like me!
And although we did not do this, Verizon says you can pair two Wonderbooms together for added sound! I am interested to try this out.
Some other features:
-a loop for mounting
-button controls on the speaker for playing, pausing, or skipping songs
-up to 100 ft. Bluetooth wireless range
DIY gifts from the heart
Nothing melts a mother's heart more than thoughtful, homemade gifts. They could range from elaborate coloring pages or cards from your children to homemade bath salts that you create with your kids.
Here are a few ideas that any mother would love:
–Super cute mother's day votives from "i heart arts and crafts".
-Here is a list of 50+ DIY gifts on a budget from "Cute DIY Projects".
–Mother's Day gifts from the kids- 15 ideas from "The Artful Parent".
–Simple, homemade sugar scrub recipe from "Reasons to skip the housework".
–DIY coffee cup candles from "Sweet Cayenne".
–A ton of easy Mother's Day cards from the kids by "Crafty morning".
Well, there ya have it! Regardless of what you give, TIME is the most important thing any mother would love to have as long as it is with the one's she loves!
Happy Mother's Day to all you ah-mazing police wives!
FREE Police Wife Guide- Top 10 Ways to Rock Police Wife Life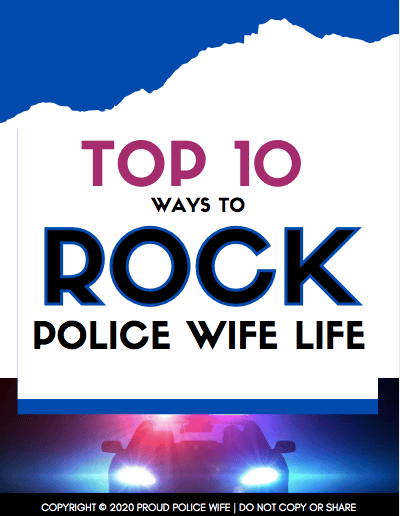 Learn to rock police wife life with these 10 easy tips! Join over 20,000 fellow police wives who are learning to rock it and feel supported with our help each week! Once a week I will provide you with even more ways to feel encouraged and supported for your law enforcement wife journey with my newsletter.
Read my PRIVACY POLICY here.