Today's episode is brought to you by Blue Monarch Co. A female, first responder owned company that offers beautiful, unique jewelry for men and women. You can look at their expansive collection and shop at bluemonarchco.com.
My husband and I have always been passionate about supporting first responder owned businesses, especially ones that support police. Not only are they usually small, family owned businesses, but many of them give back to first responder charities.
To us, it is also meaningful supporting a company that truly supports what our loved ones do in our communities. They understand the sacrifice, the commitment, and the hardships of the job.
So as a law enforcement family, supporting blue family businesses is important to us.
A Blue Family Business I Support:
I have been wearing jewelry from Blue Monarch Co. for a few years now and if you've followed me for any length of time, then you know I only share brands I know, use and trust.
So I had the owners of Blue Monarch Co., Tania and John, come onto the podcast so you could get to know them, too.
Both Tania and John are retired law enforcement from New Jersey. They both come from a long line of law enforcement in their families and they worked the aftermath of 9/11. So supporting first responders was at the forefront of their business model.
They said they knew what it was like to not be supported as first responders and they never want any of their customers to feel that way when shopping from them.
They also share the meaningful story behind the name "Blue Monarch Co" on this episode.
What does Blue Monarch Co. offer?
Blue Monarch Co. offers beautifully curated, original pieces of jewelry for both men and women.
They offer so many subtle pieces which allow you to support police without screaming "blue line" in public. You can grab it here.
Here is a beautiful men's option.
They also designed this Guardian Necklace for law enforcement and family because law enforcement are our guardians from the dangers in the world.
Not only do they have blue line pieces in support of police, but they also just released a red line option for fire, and green line option.
In addition, they created a gorgeous St. Michael challenge coin for police, police families and police supporters. You can grab one here.
Or follow them on Instagram here to see their latest releases and designs.
FREE Police Wife Guide- Top 10 Ways to Rock Police Wife Life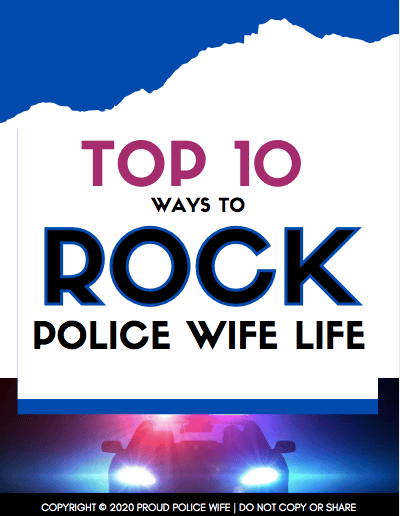 Learn to rock police wife life with these 10 easy tips! Join over 20,000 fellow police wives who are learning to rock it and feel supported with our help each week! Once a week I will provide you with even more ways to feel encouraged and supported for your law enforcement wife journey with my newsletter.
Read my PRIVACY POLICY here.