Be sure to scroll to the bottom of this post to join our #policerock movement!
So a few years ago in our area there was this big craze to paint rocks and leave them hidden around town. People would hide rocks at Target, streets downtown, outside restaurants, local parks, pretty much everywhere. It was a great movement designed to bring happiness into people's lives.
Our kids would BEG to go rock hunting. It was so much fun for them and also great exercise so I always said yes! They loved the surprise of seeing what design would be on their rock. Some rocks they would keep and others they would re-hide for someone else to enjoy.
The designs painted on the rocks were so creative. We've seen anything from unicorns and fairies to Disney characters to inspiring words like breath, peace, and love.
Many areas around the east coast even have facebook groups dedicated to the painted rocks. People would join a group, then post pictures of ones they have hidden or post where they found their beautiful rock(s). It is always exciting to see where your rocks would end up!
People even went as far as putting their initials on the back of the rock or their facebook group name to identify their rock. We once found a rock that was painted in New Mexico! So we joined the New Mexico rock facebook group just to say thank you to whoever painted that rock. It was amazing for our kids to see how far that rock traveled and they would guess as to how many people hid it all over the United States before they found it.
After finding so many rocks, the kids and I thought it would be fun to paint and decorate our own rocks and hide them all over town.
Their favorite place to hide them was at the local police department in hopes of police officers finding them and bringing a smile to their face because they definitely need it, right?
So I thought why not paint more rocks in hopes of bringing joy to officers across the nation?
So below you find details on how to paint the rocks easily and I'll give you some great ideas for rock designs.
How to easily paint thin blue line themed rocks:
Materials Needed:
Look for medium-sized rocks that can fit in the palm of your hand AND are rather flat on top. River rocks seem to work the best and you can buy them from a home improvement store or this set is super nice.
Or you could easily buy a rock painting kit which has all the materials you'll need.
Buy acrylic paint. We use this variety pack
I highly recommend these acrylic paint pens that I use on rocks that have more detail like the police car or for words.
Purchase paint brushes in a variety of sizes (extra small bristles to large).
Buy this spray as a sealant to keep the paint on your rocks and help give it a nice shine. You could also use Modge Podge if you have it on hand. Any clear sealant will do.
How to make the rocks:
When we buy a bag of rocks, I always wash them first to get off extra dirt then let them dry off in the sun.
I start by painting the top and sides of the rocks a base color. In this case, a lot of my rocks were black.
Once the base color is dry, I add the main designs to the rocks. For this rock, I painted it black first, allowed it to dry for about 10 minutes while I worked on another rock then painted the blue heart.
Tip: If you are using paint and paint brushes to add designs (not the paint pens) then I recommend drawing your design with a sharpie then tracing it with your paint. It makes the painting phase much easier if you aren't much of an artist like me!
Again, let them dry in the sun.
Once dry, spray with a sealant so the paint never washes off and it gives your rocks a more complete look.
Hide wherever you would like. This is the fun part!
It's that easy to make kindness rocks and brighten a police officer's day! Now let's talk about some design options!
Grab the All-in-One Police Wife Reference Guide
Grab this handy reference guide for all things police wife! From important dates & events to resources for law enforcement- all in one place! Subscribing also gets you access to my weekly newsletter full of tips and encouragement.
Read my PRIVACY POLICY here.
Great ideas for thin blue line rock designs:
The basic thin blue line rock
K9
A police car
A siren
A donut rock
A thin blue line flag
Any supportive saying like we bleed blue, cops rock, we back the blue, cops save lives, police rock and more!
Here are some thin blue line rocks we made!
Will you join our #policerock movement? To make an effort to bring kindness to law enforcement, join us by creating beautiful, supportive or thin blue line rocks for police and hide them around your town or local department.
Please share your pictures on Instagram, tag us, and use hashtag #policerock

FREE Police Wife Guide- Top 10 Ways to Rock Police Wife Life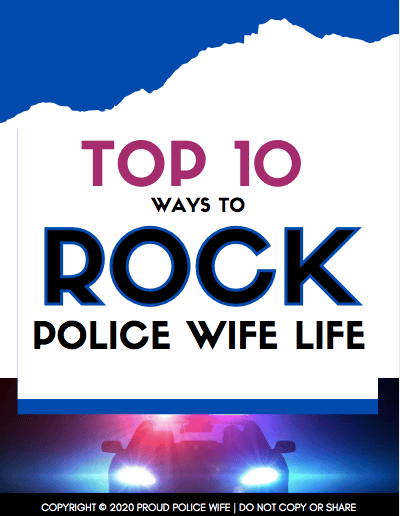 Learn to rock police wife life with these 10 easy tips! Join over 20,000 fellow police wives who are learning to rock it and feel supported with our help each week! Once a week I will provide you with even more ways to feel encouraged and supported for your law enforcement wife journey with my newsletter.
Read my PRIVACY POLICY here.