Whether you are stuck at home or needing quality time with your spouse and going out is too daunting, then must-have movie list (and shows) is perfect for any police couples.
After we (or our officers) have worked long days or if we have limited time with our spouse, sitting down, relaxing and watching a great movie or show is sometimes all we need.
Since everyone has different taste, this post is divided into two sections: police-related movies/shows and non-police-related. My officer and I enjoy police themed shows once in a while, but I realize some don't at all. So these different categories should help you choose.
Many of these movies/shows can be found on Netflix, Prime or Hulu.
At-home must watch movie and shows list:
POLICE RELATED SHOW/MOVIE LIST:
OTHER GUYS
END OF WATCH
BAD BOYS
DIE HARD
Although many see this as a Christmas movie, you can watch it all year long.
MURDER MYSTERY
A great comedy with Jennifer Aniston and Adam Sandler. Think CLUE.
SPENSER CONFIDENTIAL
I had to add this one to the movie list. We watched it recently and it was a very good watch.
BROOKLYN'S FINEST
TRAINING DAY
BLUE BLOODS
Blue Bloods is one of our all-time favorite shows!
POLICE ACADEMY
THE WIRE
DIRTY HARRY
L.A. CONFIDENTIAL
SHARKY'S MACHINE
BEVERLY HILLS COPS
HEAT
LETHAL WEAPON
RUSH HOUR
COLORS
HILL STREET BLUES
CHICAGO P.D.
THE DEPARTED
SEVEN
BULLET
MIND HUNTER
HOW TO GET AWAY WITH MURDER
| POPULAR POST: THE MEGA LIST OF DISCOUNTS FOR LAW ENFORCEMENT |
NON-POLICE RELATED SHOW/MOVIE LIST:
TIGER KING
Of course this would be at the top of the list. If you are a cool cat or kitten, check it out.
OZARK
DEAD TO ME
THE RANCH
HANDMADE'S TAIL
GOOD GIRLS
HARRY POTTER OR LORD OF THE RINGS– if you have a lot of time on your hands, these are long movies to watch.
OUTLANDER
WORKING MOMS
LOVE IS BLIND
THE IRISHMAN
This is a LONG movie, but one that my husband and I both enjoyed.
YOU
Pretty much my favorite series ever!
SCHITT's CREEK
100 HUMANS
VIRGIN RIVER
I hope this show/movie list keeps you busy for a while. Join me on Instagram and tell me your favorite binge-worthy movies or shows!
| RELATED POST: 40+ SONGS FOR LAW ENFORCEMENT- FOR EVERY OCCASION |
FREE Police Wife Guide- Top 10 Ways to Rock Police Wife Life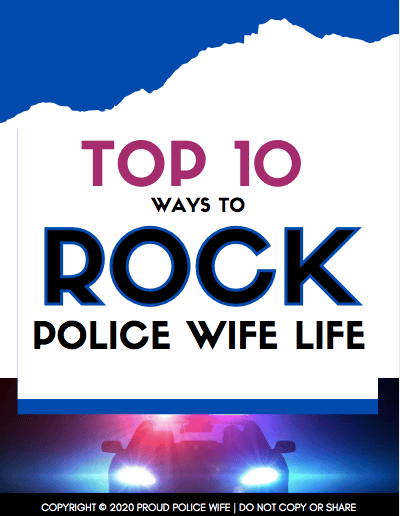 Learn to rock police wife life with these 10 easy tips! Join over 20,000 fellow police wives who are learning to rock it and feel supported with our help each week! Once a week I will provide you with even more ways to feel encouraged and supported for your law enforcement wife journey with my newsletter.
Read my PRIVACY POLICY here.