*I do not own the rights to any of this music*
A huge thank you to my fellow police wives that helped me compile this list!
I absolutely love listening to music and no matter what my emotion is, music tends to make me feel better. So I am always looking for songs that relate to my situation or my current emotion. I also love playing music on our Amazon Alexa or Echo while I am doing dishes or cooking.
As a police wife, I also love to find music with a more "law enforcement song" feel. Some songs are supportive of our first responders, but others are just encouraging or inspiring and all-around great to listen to. These songs can be somewhat hard to find when you seem to need them the most. So I figured why not compile a long, large list of the best songs for law enforcement couples.
I tried to categorize the songs for your convenience, but you may find that many of these songs fit more than one category.
If you need encouragement not just with music, be sure to check out my new book on Amazon called The Peacemaker's Wife. It is a collection of over 50 journal entries that guide you to inspiration regarding police wife life (with plenty of writing space)!!
A massive list of songs for law enforcement couples:
Upbeat tunes:
Wolfhunter by Forensic
Courageous by Casting Crowns
When the Seasons Change by Five Finger Death Punch
I Fought the Law by Clash
The Sound of Silence by Disturbed
COPS Theme Song by Bad Boys (come on, I had to add it)
RISE by Katy Perry (A Police Tribute)
I'm the Police by 1 Time
The Middle by Jimmy Eat World
Fight Song (a police tribute) by Rachel Platten
When You're Gone by Avril Lavigne
Supportive/Patriotic:
Thin Blue Line by Caleb Paul
One Hell of an Amen by Brantley Gilbert
Mr. Policeman by Brad Paisley
Highway Patrolman by Bruce Springstein
He's One of the Good Ones by Gabby Barrett
Cop Car by Sam Hunt
Emotional:
Prayer for the Road by the Eli Young Band
Mama I'm Coming Home by Ozzy Osbourne
Mr. Red White and Blue by Coffee Anderson
Come Home by Faith Hill
Love Song by Miranda Lambert
Hurt Locker by Robyn Slade- this is a new song that Robyn wrote for BLUE H.E.L.P. It is beautiful!
Sleeping with the Telephone a duet by Miranda Lambert and Reba
I'm Already There by Lonestar
Officer Down by Hannah Ellis
Our Hearts Bleed Blue by Jay Dirks
I Run to You by Lady Antebellum
Answer the Call: 911 Dispatcher Tribute by OdysseyAuthor
Everyday Heroes by Dave Carroll
How to Save a Life by The Fray
Sirens by Brother Joe

Get Away Car by Taylor Swift
Cop Car by Keith Urban
Stay in the Fight by Chase Curl
Brother (Fall Officer Tribute) by Chase Curl
Broken Halo by Chris Stapleton
God Gave Me You by Blake Shelton
Superman by Rachel Platten
One Call Away by Charlie Puth
The Ones in Blue by The Padinator
Waiting for Superman by Chris Daughtry
On my Watch Tonight by Mike Corrado

The Highwaymen by Johnny Cash
I hope you enjoy this list as much as me! Remember to save this post so you can come back to it again and again!
What songs would you add to this list?
FREE Police Wife Guide- Top 10 Ways to Rock Police Wife Life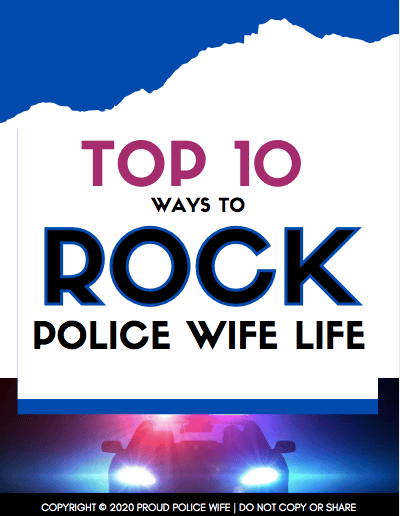 Learn to rock police wife life with these 10 easy tips! Join over 20,000 fellow police wives who are learning to rock it and feel supported with our help each week! Once a week I will provide you with even more ways to feel encouraged and supported for your law enforcement wife journey with my newsletter.
Read my PRIVACY POLICY here.