Christmas is absolutely my most favorite time of the year! You can usually find me decorating in early November (no judgment, okay?).
We have our traditional Christmas tree but we also have a thin blue line themed tree that we put up every year in my husband's man cave. It is special to him and we have been putting it up for years. Every year we manage to find one new thin blue line ornament or two to add to the tree.
This year I wanted to change things up a bit and make my own thin blue line ornaments to add to the tree. They are perfect for personalizing, adding as gift tags or as gifts for the department or coworkers.
Easy tutorial for thin blue line ornaments:
Supplies needed for thin blue line ornaments:
Round, wooden ornaments- unfinished- I purchased these off Amazon. I got the 50 piece pack for cheap or you can cut your own if you feel bold. It also came with twine for hanging. The ones off Amazon are already pre-sanded and ready for painting.
Twine– mine already came with twine that is pre-cut for each ornament but you can purchase your own. I recommend this brand as it is sturdy.
Paint– I buy this acrylic kind.
Fine-tip paint markers– it is really important to get the fine-tip to make writing easier.
That's it! Truly, these ornaments are the easiest to make! Let's get started!
Before you start painting away, I would recommend making of list of how many ornaments you want to create and what each ornament should have on it.
Ornament ideas:
-Thin blue line
-Thin blue line with badge number or last name
-Thin blue line with one word like: sheepdog, peacemaker, deputy, sheriff, trooper, sargeant
I began by painting the first layer of paint on as many wooden ornaments as I needed. You'll need to let that dry before moving on to the next step.
Once the bottom layer of paint is dry, you can move on. If you plan to add the thin blue line, just paint right on top of the bottom layer of paint.
Grab the All-in-One Police Wife Reference Guide
Grab this handy reference guide for all things police wife! From important dates & events to resources for law enforcement- all in one place! Subscribing also gets you access to my weekly newsletter full of tips and encouragement.
Read my PRIVACY POLICY here.
Then add whatever detail you would like, badge number, last name, a thin blue line related word, anything you want using a fine-tip marker.
Here is the finished product! Pass them out as ornament gifts, use as gift tags or whatever else you can think of.
I would love to see your creations- please share with me on Instagram!
Need gift ideas? Check out these inexpensive, thin blue line stocking stuffers!
FREE Police Wife Guide- Top 10 Ways to Rock Police Wife Life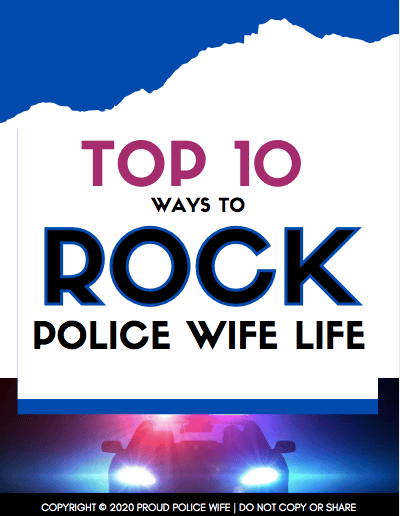 Learn to rock police wife life with these 10 easy tips! Join over 20,000 fellow police wives who are learning to rock it and feel supported with our help each week! Once a week I will provide you with even more ways to feel encouraged and supported for your law enforcement wife journey with my newsletter.
Read my PRIVACY POLICY here.