**Don't miss it! The ULTIMATE Meal Planning E-Bundle for Law Enforcement Families is available NOW! If you are ready to save time, money & stress then this is the meal planning system for you. It is tailored specifically to law enforcement life!**
I don't know about you, but I know that one of my biggest struggles for YEARS as a police wife was figuring out what meals/snacks to buy for my husband's lunchbox. I don't always prepare and pack my officer's lunch, he does that himself a lot of the time. But, ultimately, I am the one doing the grocery shopping for our household. I am also the one doing the meal planning ahead of time. So figuring out what keeps in my officer's lunchbox is important come shopping time.
I would always ask my husband what he wanted me to buy him at the store but, honestly, he didn't really know. Yeah, he knows what kind of food he likes, but what he wanted was not always what would KEEP in his lunchbox over a very long shift. Spending most of his day in a patrol car, meant that his options for food were limited. Officers do not have easy access to microwaves, their food is stored in a lunchbox for longer than 8 hours at a time and their food can easily spoil after so long.
I was also sad to see my husband constantly coming home with a full lunchbox. As in, he did not eat for 12+ hours or he had fast food on his way home from his shift. Yes, he is an adult, but I still don't want my husband going hungry and letting food go to waste. A lot of times this occurred because he was extremely busy and did not have the time to eat. Or it was because, when he did have time to eat, his food was now "questionable" because it had sat in his lunchbox for so long. Not to mention the amount of money we were wasting.
Over the years, we have found that packing snacks really helps to solve these problems. Snacks are easy to grab and eat even when he is busy or on his way to a call. The snacks below will also keep in an officer's lunchbox for hours on end. No worry of spoiling or having to find a place to reheat them.
7 easy snacks that keep in a first responder's lunchbox:
Popcorn/Veggie Straws- We love going to Costco and buying the large bags of Angie's BOOMCHICKAPOP: Sweet & Salty Kettle Corn or Veggie Straws. Or we order the individually portioned bags that we can quickly grab for a snack off of Amazon. My whole family eats these snacks so we don't mind buying in bulk. If you have a large family or school-aged children that need snacks, too, then this could be a good option for you.
Cookies– not just ANY cookie. Lenny & Larry's cookies, in particular. These cookies are all-natural and jammed packed with proteins that will give your husband that much needed energy boost! We love the chocolate chip cookie and the peanut butter cookie by Lenny & Larry's. I eat these cookies, too. They help to get me through a long night shift without my husband when I have some writing to get done. These are also great to stuff in stockings during the holiday season.
Beef Jerky– What guy doesn't love jerky? I feel like you can find so many brands, in any store, now-a-days. My husband likes the Jack Link's brand. This brand also makes on-the-go lunch packs that are great for packing on those busy mornings.
Nuts/Trail Mix– Nuts are great sources of protein and keep fresh forever! Plain or salted almonds work or go the fun route and get trail mix with chocolate chips or craisins! Right now I love a peanut butter and jelly trail mix from my local grocery store. You can also grab some small pre-packaged nuts or mixes to go right in the lunchbox.
Protein Bars– There are so many brands of protein bars now-a-days. My husband loves the new CLIF Bars filled with nut butter.  They keep my husband full and give him an extra boost of energy.
Fresh veggies/fruit– Carrots, bananas, oranges, apples, fruit cups- there are so many, healthy possibilities that keep well in a lunchbox.
Breads/Muffins– I love making banana or zucchini bread, but don't feel like you have to make them. Store bought is just as fine, too! Either way, it is easy to slice up bread and pre-package them in Ziploc bags as a fulfilling snack. Muffins are another easy, go-to food that will keep your officer satisfied until his next snack or meal.
First responders have very strenuous jobs and it is important for them to stay as nourished as possible. Eating often and in small amounts also helps to keep them energized and full until they get time to actually have a meal (whenever that may be).
Tip: Plan ahead and pack a weeks worth of snacks in baggies. This makes packing food each day fast and healthy. Your officer can just grab and go!
FREE Police Wife Guide- Top 10 Ways to Rock Police Wife Life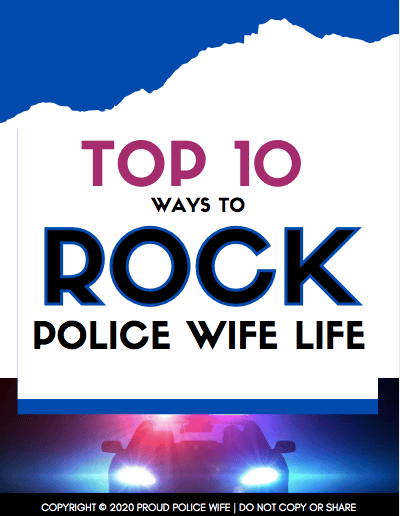 Learn to rock police wife life with these 10 easy tips! Join over 20,000 fellow police wives who are learning to rock it and feel supported with our help each week! Once a week I will provide you with even more ways to feel encouraged and supported for your law enforcement wife journey with my newsletter.
Read my PRIVACY POLICY here.