Just because our loved ones are in law enforcement does not mean they will experience a critical incident. But, yes, it is a possibility.
And sometimes trauma occurs to the department as a whole, a community or co-worker and that experience still leaves us (or your loved one) with a wound.
And whether a critical incident has occurred for you, your spouse or your family or you just want to be mentally prepared now knowing that this possibility could happen the best you can do is find tools to be resilient.
Taking action now and meeting someone where they are at after a critical incident is important for mentally and physically recovering from the event.
Knowing where to get help, what immediate steps to take and when you should take them is vital for working through a critical incident hours, days, weeks and even months after it occurs.
3 Immediate Ways to Support Your Spouse After a Critical Incident
Validate how they are feeling.
Even if you can't quite understand how they are feeling, normalizing that their feelings matter.
Let them know you are willing to listen whenever they are ready to talk.
You don't have to fix this for them. Sometimes you CAN'T fix this for them. And that's okay. But making yourself available to listen at any moment, when they are ready to talk is so important.
Encourage them to talk with others.
It can be hard to swallow that sometimes our loved ones need to talk with other besides just us. This could be with others who experienced the same trauma they did, possibly coworkers. Encourage utilization of peer support within the department or even outside the department (some sources for that are linked below). Counselors or clinicians with experience working with law enforcement- also linked below.
For more help, tools and resources, here are some tools and resources I recommend:
Articles/Podcasts:
10 Ways to Recover from a Critical Incident as an Officer or Spouse from Code4Couples- Cyndi Doyle
What to Expect After a Critical Incident as a Police Officer or Spouse from Code4Couples- Cyndi Doyle
Accounts to follow on Instagram:
Code4Couples– Law Enforcement Relationships/Marriage and Resiliency
DocJenna-First Responder Wellness
Wellness 4 Warriors- Peer Support for Families and Officers
Websites:
Lifegiver Directory- Directory for Counselors/Clinicians
FREE Police Wife Guide- Top 10 Ways to Rock Police Wife Life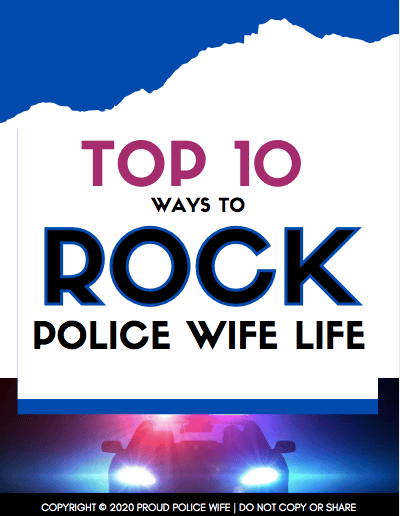 Learn to rock police wife life with these 10 easy tips! Join over 20,000 fellow police wives who are learning to rock it and feel supported with our help each week! Once a week I will provide you with even more ways to feel encouraged and supported for your law enforcement wife journey with my newsletter.
Read my PRIVACY POLICY here.