So one thing I never imagined while being in a service marriage (& being married to a police officer) is that I would get asked so many off-the-wall questions related to his job. Some are funny, but some are kinda, well, strange or unbelievable.
Personally, I have been asked a ton of crazy questions, but I knew other wives who have been asked even funnier questions than myself. So for this post, I enlisted some help from my fellow police wives. So a huge shoutout to the wives who contributed to this post- I couldn't have done it without you!
The unbelievable questions you may hear when married to a police officer:
1. "How fast can I go without getting a speeding ticket? Can you ask your officer?"
2. "Can your husband/wife tell me about what happened on highway (insert highway nowhere near our officer works)? I really want to know what happened."
3. "Does your husband know someone named John? He works for the same department as your husband and my friend just met him on a dating app, and she wants to make sure he's a good guy, so I figured I'd ask you!"
(Our department has 1500 officers, so no, he does not know "John" Nolastname.)
4. "So if you need him to come home isn't he in a cruiser so he can just come home?"
5. "Can your officer just run this person and see what comes back?"
6. "You let your husband keep guns in the house with small children?!"
7.  "Don't say anything around her, she's married to a cop!"
8. "I know your husbands a cop but.."
9. "I haven't seen your spouse in forever. Are you even still married?"
10. "Can your officer run this license plate for me?"
11. "We had plans together. Isn't your husband/wife off work yet?"
FREE Police Wife Guide- Top 10 Ways to Rock Police Wife Life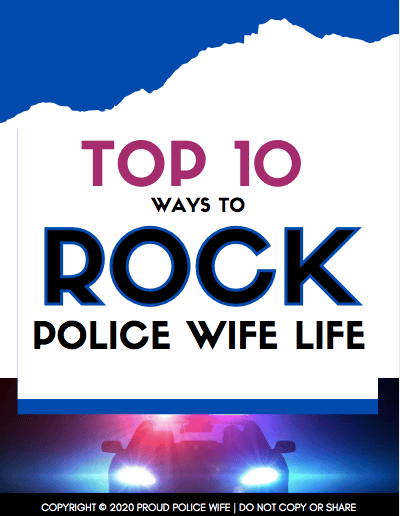 Learn to rock police wife life with these 10 easy tips! Join over 20,000 fellow police wives who are learning to rock it and feel supported with our help each week! Once a week I will provide you with even more ways to feel encouraged and supported for your law enforcement wife journey with my newsletter.
Read my PRIVACY POLICY here.