This post is sponsored by The National Law Enforcement Museum. All opinions are honest and my own.
Recently my family and I drove into Washington, D.C. and toured the National Law Enforcement Officers Museum. The museum is offering FREE admission to all active and retired law enforcement officers every Saturday for the rest of 2022.
Not only is the museum incredibly interactive and engaging, but they honor America's law enforcement and all that they do in such powerful and meaningful ways.
Our entire family (ages ranging from 5-38 year olds) loved everything the museum had to offer, so much so we stayed for nearly 4 hours! Our very active 5 year old stayed engaged the ENTIRE time and that speaks volumes.
Below I share all our favorites exhibits but first, here are some reasons you should add the museum to your must-do list.
3 Reasons Why You Should Visit the National Law Enforcement Museum
The History it Provides.
Not only can you learn about the policing profession as it stands in current day, but the museum also provides nearly 300 years of policing history. The museum has well-preserved artifacts that show the progression of how policing and items used during policing have changed over time. From vehicles, to radios, to uniforms and weapons, so much has evolved over the years and it was very interesting to see!
It Honors the Profession.
The museum eloquently honors all current, past and fallen officers in a number of ways. Not only does the museum paint a realistic picture of what the job looks like but they show the human side of law enforcement officers through exhibits and their new documentary Service and Sacrifice, which I discuss more below. Inside the museum there is also the Hall of Remembrance which honors fallen officers and showcases just a small fraction of items left at The National Law Enforcement Officer Memorial across the street.
Last but not least, the museum experiences are incredibly eye-opening.
As a spouse, I truly felt like I could walk through the shoes of law enforcement when I went through certain exhibits. Specifically, during both the Driving Simulator and Decision Simulator, I was able to see first hand how quickly police officers have to make split second decisions, many of which are life threatening. My husband has been in law enforcement nearly 15 years and I honestly thought I understood this aspect of his job. But going through these simulators was an eye-opening experience that left me rather speechless. I truly wish everyone could watch or experience these types of simulators because it really puts the realities of the job into a new perspective. I talk more about each simulator below.
Must-See Exhibits to See While Visiting the National Law Enforcement Museum
When you plan to visit the museum, here are the top exhibits my family and I recommend seeing.
Start by viewing the NLEOMs new, short documentary on law enforcement called Service and Sacrifice.
I was BLOWN AWAY at how this film truly depicted what law enforcement officers and their families go through. Honestly, I wish everyone could see this film as it humanizes our nations police officers. It was age appropriate for children and accurately portrayed what families experience. The film allowed us to see the experiences of a variety of police officers (and their families) across the country, the sacrifices that they make, and most importantly the reasons why they show up every single day to make an impact and serve their communities. While the film showed us just a handful of law enforcement officers, those officers accurately portray the thousands of men and women who are dedicated to their communities daily. This is a MUST WATCH FILM!!
The Take the Case Exhibit
We have three children and their ages range from 5-10 and this was their favorite exhibit to do. It was very hands-on and allowed the kids to act as detectives by examining clues and collecting evidence. This exhibit kept them entertained for a long time and as they progressed through they improved their investigative skills.
The Decision Simulator
I took part in the Decision Simulator (ages 15 and up) and it was so powerful to see situations that are similar to what our spouses/significant others experience at work and how LITTLE TIME they have to make a decision. As a spouse, it gave me a new found appreciation for my husband's training. Everyone in the room, except for the law enforcement officers, were shocked at how quickly events unfolded during the simulator and just how fast a decision would need to be made. Not only that, but each decision was not exactly cut and dry or a simple "yes" or "no". So many factors were in play and it was very realistic.
The Driving Simulator
Another favorite of mine was the Driving Simulator. I was selected as a participant to drive a patrol car simulator while being faced with emergencies just as our loved ones would on the job. Yes, it was fun and the crowd (and my children) laughed as I ran over things by mistake. LOL! But this experience was beyond insightful for me. During my last exercise, I had to not only drive with lights and sirens on, while cars are pulling out in front of me, but also listen to the radio to arrive at the emergency situation. The instructor in the room was telling me to turn left, then turn right etc BUT I NEVER HEARD HIM. Truly, never heard anyone in the room and I didn't realize it until after the exercise was over. I had tunnel vision just like many officers may experience. Even as a spouse, it really provided me with a new perspective.
The 911 Emergency Call Center
This was an interactive exhibit that all ages can enjoy. My children loved being able to hear what sounded like real emergencies and guess what questions the dispatcher should ask next.
I even competed against my husband on the questions. Guess who won? He did, of course. He answered every question correct while, let's just say, I probably don't have a calling as a 911 dispatcher.
Additionally, right across the street is the National Law Enforcement Officers Memorial. A beautiful remembrance wall of fallen heroes where you can locate their name, remember their sacrifice and pay your respects. It is an emotional experience but one that is incredibly special.
Overall, my family and I highly recommend the National Law Enforcement Museum in Washington, D.C. We will definitely return back in the future. And for after your visit, there are great restaurants right down the street on 7th street.
And don't forget, all active and current law enforcement get FREE admission every Saturday for the remainder of 2022.
If you want to see a video walk-through of our experience, check out my reel on Instagram here.
FREE Police Wife Guide- Top 10 Ways to Rock Police Wife Life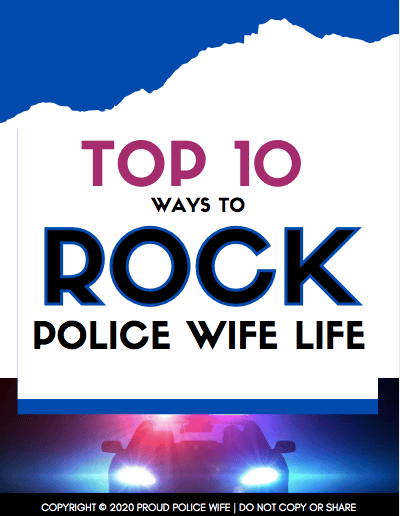 Learn to rock police wife life with these 10 easy tips! Join over 20,000 fellow police wives who are learning to rock it and feel supported with our help each week! Once a week I will provide you with even more ways to feel encouraged and supported for your law enforcement wife journey with my newsletter.
Read my PRIVACY POLICY here.