This is a sponsored blog post on behalf of Honor the Brave. All opinions are honest and my own.
If you are buying or selling a home any time soon and you are a first responder (or your spouse is) then why not save some money while doing it?
The best buying/selling home program for first responders is Honor the Brave. They are a first responder owned family company that has a mission to give back to their first responder clients when buying or selling a home.
My husband and I have personally used Honor the Brave to sell a home and again to purchase a home. They were amazing to work with and we will never use anyone else but Honor the Brave.
I always get a lot of questions anytime I share about them, so let's dive in to some frequently asked questions.
Is there a special contract or loan assistance with Honor the Brave?
Nope, not at all. You simply use one of their realtors (or you can ask your realtor if they are interested in being affiliated with Honor the Brave) to go through the buying/selling process. You get a regular loan through your bank just like you normally would.
How does Honor the Brave give back?
When you utilize their Nationwide Honor The Brave program, you receive Brave Benefits equal to 10% of the agent's commission back when you buy or sell, just as a thank you for your service.
Additionally, Honor the Brave donates an amount equal to 5% of the agent commission to the charity of the BRAVE'S (buyer or seller) choice, that impacts first responders or military in some way.
How amazing is that?
Where does the money come from to give back to buyers and sellers?
This is a great question. All realtors associated with Honor the Brave, simply want to give back to you for your service. So they agree to give a portion of their commission back to you! It's that simple.
My husband and I personally used an Honor the Brave realtor twice and the owners, Jeff and Zanna Wolfgang, mailed our realtor a check within 2 weeks after closing and our realtor then presented us with that check. Plus, we were given a beautiful wooden thin blue line flag as a thank you from the owners of Honor the Brave.
Who qualifies to use Honor the Brave?
Any current or previous law enforcement, fire, military or first responders.
How can we get in contact with Honor the Brave?
You can visit their website here to learn more and fill out their contact form.
Or you can personally call the owners, Jeff and Zanna Wolfgang at: 406.580.5165 or 406.209.6435
Or contact them via email at: zannawolfgang@gmail.com or jwolfgang24@gmail.com
How much money did you and your husband receive back after buying or selling?
Because I only share about companies my husband and I personally know, use or trust, I want to be transparent with you. We received about $500 for selling our home and another $500 after the purchase of our home.
Why did Jeff and Zanna Wolfgang start Honor the Brave?
Jeff was a police officer who was injured on the job. This injury ultimately ended his career in law enforcement. But Zanna and Jeff still had such a strong passion for serving the first responder community. So Honor The Brave became the light that followed the darkness in Jeff and Zanna's journey after Jeff's career-ending injury.
This is their way of serving those who serve.
Again, check out Honor the Brave here if you are thinking of buying or selling your home anytime soon. This is a nationwide home program for first responders so they can find a realtor in your area who can work with you.
FREE Police Wife Guide- Top 10 Ways to Rock Police Wife Life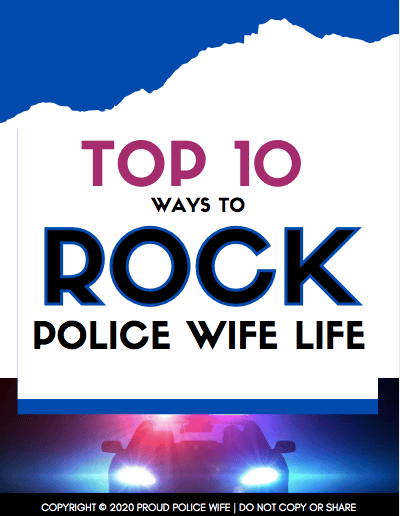 Learn to rock police wife life with these 10 easy tips! Join over 20,000 fellow police wives who are learning to rock it and feel supported with our help each week! Once a week I will provide you with even more ways to feel encouraged and supported for your law enforcement wife journey with my newsletter.
Read my PRIVACY POLICY here.