I received free tickets to Kings Dominion in exchange for this post.
Ready for some summer fun?
Kings Dominion in Doswell, Virginia wants to say thank you to all public safety officers by giving FREE admission during their Public Safety Appreciation Week June 3rd-June 9th, 2019, with a valid ID shown at check-in.
To get a full list of public safety included, you can go here for more information.
Friends and family of public safety can also join in on the fun at Kings Dominion at a discounted rate the week of June 3-June 9. You will need to purchase your tickets online in advance here.
But it doesn't stop there! 
Grab the All-in-One Police Wife Reference Guide
Grab this handy reference guide for all things police wife! From important dates & events to resources for law enforcement- all in one place! Subscribing also gets you access to my weekly newsletter full of tips and encouragement.
Read my PRIVACY POLICY here.
Kings Dominion has teamed up with the Virginia Public Safety Foundation to give back to the Virginia Public Safety Foundation Line of Duty Grant.
In addition to free tickets for public safety and discounted tickets for friends and family, $2 of every ticket purchased will go to the Virginia Public Safety Foundation Line of Duty Grant program which gives cash assistance to families who lost a loved one in the line of duty. The general public can purchase tickets for $29.99 (with $2 going back to the VPS Foundation) by going online and purchasing. 
Thank you to Kings Dominion for showing support to ALL public safety personnel; we appreciate it!
FREE Police Wife Guide- Top 10 Ways to Rock Police Wife Life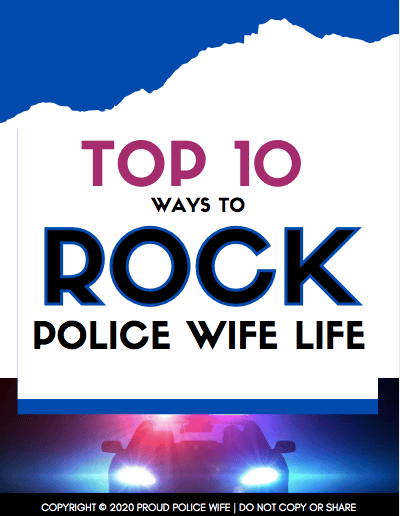 Learn to rock police wife life with these 10 easy tips! Join over 20,000 fellow police wives who are learning to rock it and feel supported with our help each week! Once a week I will provide you with even more ways to feel encouraged and supported for your law enforcement wife journey with my newsletter.
Read my PRIVACY POLICY here.