It doesn't matter what day it is. After a long, tired night shift, my officer walks in the door and I know. I can pretty much guess what story he is about to tell me. If you are a veteran LEO spouse than you know, too. If you are new to the LEO world, you will eventually know based on your officer's demeanor and what you see or smell from his/her uniform.
You start to pay closer attention as times goes on and it will eventually become second nature to you.
Let me paint the picture of how to know what your cop did at work.
What can you see on your officer?
Look at his/her uniform and shoes. Clean? Dirty? Muddy?
I can look at my husband's muddy boots and know, he was in a pursuit that night. He ran through the muddy, wet woods and rolled around on the ground with a suspect until he got an arrest.
He can empty his pockets on the kitchen counter and I know. A bullet is mixed in with some change, just laying there like it is normal. He was more than likely at the shooting range and I pray it is never worse than that. I am just glad he emptied his pockets before they hit the washer and dryer. 🙂
What can you smell on your officer?
You might notice the smells first before you see the muddy boots or sweaty clothes. Sometimes his uniform smells of smoke from a person's car or home. Usually they are smells we don't care to be around. My officer will frequently take his uniform off in the garage to keep any dirty and smelly clothing out of our home.
HOW CAN THIS HELP YOU?
I point these things out so you can recognize them, too. A long time ago I realized I needed to take a step back. I started REALLY thinking about all he goes through in one shift. Not in a scary way, but in a way that made me appreciate him more. I also realized that I need to give him some time to breath when he walks in the door. His uniform, boots, those smells, they tell us a story. Slow down and try to read it. Give your officer some time to close that book and phase into home life. I promise they will appreciate it. It is healthy for them to mentally walk away from each shift into home life but it does take some time. Wash away all that they went through & those uniforms went through. Try to pay attention to this the next time your spouse comes home so you can evaluate how much time to give him/her to decompress. Or if you need to grab the Febreeze bottle and start spraying. Haha!

Grab the All-in-One Police Wife Reference Guide
Grab this handy reference guide for all things police wife! From important dates & events to resources for law enforcement- all in one place! Subscribing also gets you access to my weekly newsletter full of tips and encouragement.
Read my PRIVACY POLICY here.
This is all just a reminder to me that our officer's sacrifice is so great. What he encounters day in and day out is more than a job. They see more in one shift than we probably see in a year or for some of us, in an entire lifetime.
I want my officer to know that I recognize all that he does. I am paying attention even when we don't have much time to talk or share about our day. I let his uniform do the talking.
Have your ever noticed that his uniform shows differently depending on if he works night shift or day shift?
Have you ever noticed anything a little crazy or weird on your husband's uniform? We would love to know! Comment below and share with us!
FREE Police Wife Guide- Top 10 Ways to Rock Police Wife Life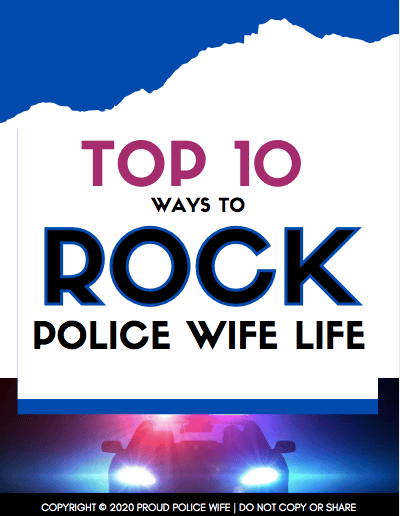 Learn to rock police wife life with these 10 easy tips! Join over 20,000 fellow police wives who are learning to rock it and feel supported with our help each week! Once a week I will provide you with even more ways to feel encouraged and supported for your law enforcement wife journey with my newsletter.
Read my PRIVACY POLICY here.