This is a sponsored post. Proud Police Wife received rings in exchange for an honest review. All reviews and opinions are honest and my own.
Sometime after our first daughter was born, I developed a metal allergy. This meant that my beautiful, sentimental engagement ring and wedding band from my husband, left me with a burning, bright red ring around my ring finger. When worn for a long period of time, usually 3 days or more, I was left with unpleasant symptoms that took weeks to clear up and it resulted in me not wearing my ring much anymore. I would only slip it on for special occasions, like a date night with my husband or for family gatherings. It honestly broke my heart and I couldn't bear having my husband purchase a new ring that was more allergy friendly.
That is until recently. My husband and I each got a few matching sets of QALO, silicone rings. To say we love them, is an understatement. It solved a lot of our "ring problems" as a law enforcement couple.
Difficulties for a law enforcement couple
A law enforcement couple will often run into problems with the officer not wearing his wedding band on the job. This can be for numerous reasons, really. Personally, my husband never wanted citizens that he came into contact with to know he was married. I totally respected that.
So here we were, both my husband and myself, not wearing our wedding bands. It was sad, really. When we went out on these special occasions we would remind one another to slip our rings back on, not because they were not of great value to us, but because not wearing them became the norm. Since we have gotten our own sets of QALO rings, we wear our rings nearly everyday.
The BEST alternative
QALO silicone rings are without a doubt, the best alternative for law enforcement/first responder couples. They are made with a high-quality silicone, free of metal, which for me is a HUGE reason I wanted to give these rings a try. QALO offers a Thin Blue Line set of rings, which is perfect for law enforcement. In addition, they offer several collections and styles of rings, if you decide to shy away from the Thin Blue Line version. Our rings arrived in matching zippered bags, which you can see in the above photo. It is very convenient to have storage bags that match the color of each ring and are not big bulky boxes as you would get with traditional rings.
Affordability
QALO offers their line of silicone rings for a low cost. The cost is substantially lower than buying traditional rings. Even if you have traditional rings but you are looking for a ring for your husband to wear on duty, then this is a perfect option that won't leave a dent in your wallet.
Comfort
My husband and I, seriously, could not tell we even had the rings on. Whenever I put my traditional bands back on, it always feels very noticeable, as they are heavy. QALO rings are light and very comfortable. I have not seen my husband more excited to wear a ring in a very long time. He has not taken it off since they arrived!
Our daughters also keep asking to wear our new rings. Another added bonus, I don't mind having them "try them on" due to the low cost. I was always so nervous if they ever wanted to wear our original wedding bands, knowing if they were lost, we could never replace them.
Because our daughters love the rings so much, I hope to purchase a set of rings from the new Mother-Daughter Collection. They are a crossover style, which is very unique and trendy.
Special Occasions
I find myself wearing the QALO rings more on a daily basis now, instead of wearing no ring at all. We plan to continue to wear our rings and save our traditional wedding bands for more special occasions. It is great to have an alternative option and not be asked at least once a week "why don't you wear your wedding ring?" from neighbors or acquaintances.
Did you know QALO also offers a First Responder/Military discount? Yep! All you have to do is verify your credentials! What a great way to say "thank you" to the men and women who protect our country!
I personally love supporting companies that back the blue! QALO does just that with their line of Thin Blue Line Silicone Rings. They also have a connection with their local law enforcement, which you can read more about here. Be sure to check out all of their silicone ring styles; they have something for everyone!
FREE Police Wife Guide- Top 10 Ways to Rock Police Wife Life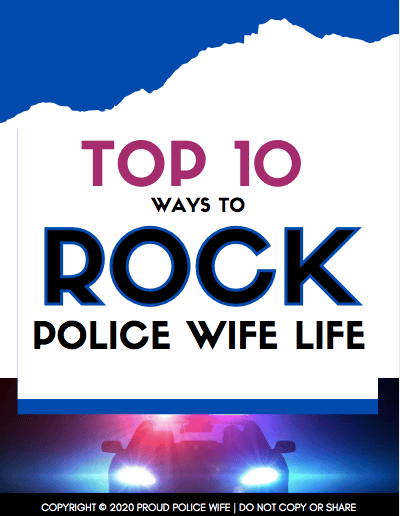 Learn to rock police wife life with these 10 easy tips! Join over 20,000 fellow police wives who are learning to rock it and feel supported with our help each week! Once a week I will provide you with even more ways to feel encouraged and supported for your law enforcement wife journey with my newsletter.
Read my PRIVACY POLICY here.