Sometimes the things we experience in our law enforcement marriage are rather unique. We may struggle because this lifestyle is new to us or because we find not many people relate to our specific situation. But it is important to remember that you married a man, or a woman, not a police officer. A police officer is their career choice. Yes, it may be one that shapes them or one that impacts your life in numerous ways, but overall, know that difficulties that arise in your relationship are NOT only because of this career path.
The law enforcement lifestyle has shaped both my husband and myself. We grew into this life together. So it is important that we work on our marriage together and not let his job as a police officer be the defining reason problems could arise.
I want to encourage you to do the same. Know that, yes, you may have problems unique to this lifestyle, like when you will celebrate a birthday due to work schedules, but HOW you deal with them is based on your unique relationship as a couple. It has nothing to do with the fact that you are law enforcement.
Every law enforcement couple is going to deal with things in different ways. They will make decisions based on what is best for their family or marriage. What works best for one law enforcement couple does not mean it will be best for another.
So let's talk about some problems that sometimes arise in law enforcement marriages and how to deal with them best. And better yet, decide, are they common or not?
                1. Finding time to be together. Yep, normal and hard to work around. But I have friends whose spouses work in the military or work two hours away. Their spouses work sometimes just as many hours as my husband does. So no matter the career, sometimes finding time to have quality time can be hard.
With that said, it can be discouraging when you feel like your time with your spouse is very limited. The best advice I have is to make your time together a constant priority. Speaking from experience, if you wait for time to "open up" it won't happen. You have to be proactive- both of you.
Sit down together each week or each month and look for pockets of time where you can spend time together. Sometimes it means just having a nice breakfast together at home or talking over coffee after a long day. Other days, plan a date night (or morning or afternoon) even if these are fewer than you would like.
Try not to think about how long you have together, but instead, what you do with the time you do have.
               2. Communication. This is a perfect topic after discussing finding time to be together. In any relationship, communication is key. Law enforcement marriages are no different. Sometimes when we make time to talk, we don't want to talk about bills or stressful topics. We just want to vent or share about our day. But we have to find a balance within all lines of communication.
Last year I met Corie Weathers, LPC at an Empowered Spouses Retreat through the Chris Kyle Frog Foundation. Her and her husband developed a Daily Check-In system where they talk for 5-10 minutes per day about how they are each physically feeling, what they each want out of the day and what will help them get that accomplished each day. One person talks at a time and it helps for each spouse to see how the other person is feeling. There is no fighting, no complaining about the other person. Just a way to keep open lines of communication.
My husband and I try to check-in in person, but it doesn't always happen that way. Sometimes we have to talk on the phone and it helps to start or close out the day.
Start with checking in each and every day as a minimum. Then when you have those larger discussions or the "not so fun" discussions you are more on the same page because you have already checked in for the day.
So do communication problems seem pretty common in law enforcement marriages? Based on the amount of questions I get from my readers, I would say yes. But committing to communicating at least once per day even if you are ships in the night can truly help.
You can also keep a family schedule or calendar, which we will talk more about below.
Feel free to sign up for our FREE resource library below that has printables to help you with communication!
              3. Scheduling conflicts. So as you may have caught on to, these problems that so many of us face, are very much connected. It is hard to communicate when we have limited time together and vice versa. It can also be hard when our spouse's schedules are inconsistent. Their days off are not always their days off or protected as such.
So your plans may change often or you may be rescheduling events or holiday plans due to your officer's work schedule. Many people who don't live a life of shift work don't always understand this and that can be frustrating.
Again, the best thing I can suggest is to sit down with your spouse and write out a family schedule. Understand that some flexibility may be needed, but not always. The best way to avoid potential problems is to be as prepared as possible in advance.
I have learned to always have a back up plan in case my officer can not attend an event (this is more for our three children), just so I don't feel disappointed. Also know when to say "no". You don't have to do it all.
Is this ideal? Not always, no. But it is common for many police wives to struggle with scheduling around their officer's days on and off.
These problems are no doubt frustrating, but they can definitely be ones that you can work through. With so much data and statistics thrown at us regarding divorce rates, I can only imagine how daunting it must feel to hear those words. But the truth is, there are stats showing our marriages are at no higher risk than any other profession.  I firmly believe this is a mindset. Let's stop thinking about only our "law enforcement marriage" and start thinking about our marriage as any other marriage out there. We are not doomed from the start. We absolutely can have the right tools to have a successful law enforcement marriage!
FREE Police Wife Guide- Top 10 Ways to Rock Police Wife Life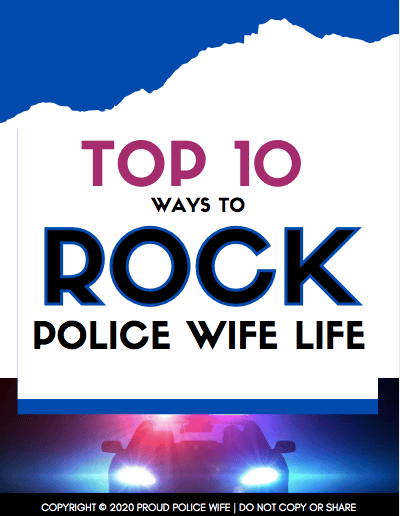 Learn to rock police wife life with these 10 easy tips! Join over 20,000 fellow police wives who are learning to rock it and feel supported with our help each week! Once a week I will provide you with even more ways to feel encouraged and supported for your law enforcement wife journey with my newsletter.
Read my PRIVACY POLICY here.