I am part of the Amazon affiliate program. As an Amazon associate I will earn a small commission from qualifying purchases if you click and purchase through my links.
If you are an Amazon shopper (if not, no worries, keep scrolling) then guess what? Amazon is having a SECOND Prime Day October 11th-12th to gear up for the holidays.
I never suggest spending just because something "seems like a good deal" but if you are shopping for holiday gifts or specific items and they happen to be on sale, then this is a great time to buy!
You do have to be a PRIME member to shop these deals. If you are not, you can sign up here. I started years ago with a 30 day trial and have always kept it because it is worth it with the shipping savings I get.
TIP: I find it easiest to shop these deals in the Amazon app. So download the app if you don't have it already.
Note: I will be updating this list ALL day, BOTH days as deals sell out and new deals post, so be sure to check back frequently! I will remove deals that expire.
Also, because this is a law enforcement blog, I share a lot more items that are law enforcement related and that families may need (black-out curtains, hot logic mini car food warmer, etc). But towards the end, I will share other great deals that many of you have asked me to look for and share.
OCTOBER AMAZON PRIME DAY DEALS (law enforcement related):
Proud Police Wife: 90 Devotions for Women behind the Badge– THIS IS MY NEW BOOK WITH 5-STAR REVIEWS!
The Peacemaker's Wife: A Journal for Police Wives
Black and Blue Dress-great for police ceremonies
Swat Toy Playset– SUPER CHEAP
Posh Peanut Police Changing Pad Cover
Streamlight Tactical Flashlight– this is a lightning deal so act fast!
Sleep Eye Mask– this is the eye mask that Lt. Col. Dave Grossman recommended during the Police Wife Conference
Rechargeable Pen Light-great for officers working the road at night
Hot Logic Mini– portable food warmer for warming food in a patrol car. lowest price I've ever seen!
Blackout Curtains– over 24,000 reviews!
Navy Blue Dress– great for police ceremonies. Over 40,000 reviews!
Portable Food Warmer to reheat food in police car
Liquid IV– my husband includes these in his water bottles for work and keeps extra in his lunch box
Black Rifle Coffee– k-cups
RHINO Hanger by Tough Hook– strong enough to hold uniforms/gear- lowest price I've seen
Rock Painting Kit– glow in the dark. Perfect for making thin blue line rocks for police
Men's Tactical Pants– black
Other requested deals/favorites:
Roll Up Dish Drying Rack– this thing is SO COOL and convenient!
Top Down, Bottom Up Window Shades
Cocomelon doll- musical bedtime
If you want the full list on Amazon, go here.
FREE Police Wife Guide- Top 10 Ways to Rock Police Wife Life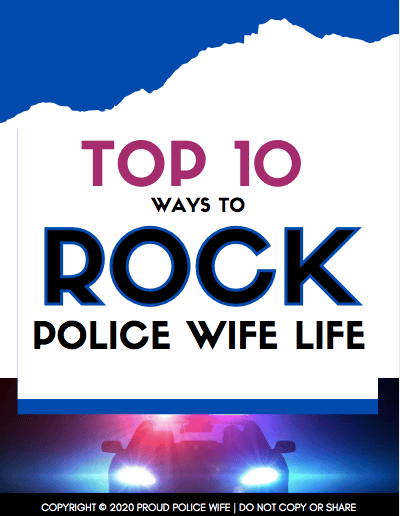 Learn to rock police wife life with these 10 easy tips! Join over 20,000 fellow police wives who are learning to rock it and feel supported with our help each week! Once a week I will provide you with even more ways to feel encouraged and supported for your law enforcement wife journey with my newsletter.
Read my PRIVACY POLICY here.