This is NOT a sponsored post. I am just truly grateful for the Chris Kyle Frog Foundation and their commitment to first responder marriages.
My officer and I have been married for 9 years and we are high school sweethearts. After 16 years together, 2 homes, 3 children and busy careers, life can sometimes get in the way. This is true for many marriages, right? But one thing that is different about our marriage is that we face challenges as a first responder couple. (Which may be true for you also if you are reading this as a first responder spouse). Challenges that don't exist in non-first responder relationships. Challenges like the high risk nature of my husband's job, having one spouse (me) taking on many roles, conflicting schedules due to shift work- the list goes on and on.
It can be hard to know how to navigate these challenges because there is no blueprint to help us. Typical marriage books, sites or even marital counseling don't normally touch on these unique challenges. In so many first responder marriages we feel like we are left to just "deal with it," but in reality, issues can be swept under the rug because they are unknown territory to so many.
What first responder marriages need are resources that help combat the obstacles we deal with and that provide support for our unique situations. Why do we need this? Because we shouldn't be expected to do this alone. We shouldn't be left to guess what is the right way to navigate this life and the impacts it has on us.
Because your first responder marriage matters.
Last year I often found myself saying "if only there were more time in the day". I needed more time to get things done. Don't we all? Because at the end of the day, I was getting so many things checked off my list pertaining to our children, our home, my work, but what wasn't getting checked off was time with my spouse. Yes, we spent time together every so often, like watching T.V. or having a family dinner, but we weren't really being as intentional as we could have been. All the while, we still felt like we were in a good place.
I had the pleasure of going to an Empowered Spouses Retreat in the Fall which opened my eyes to the level of commitment this Foundation has for first responder (& military) marriages. This retreat truly changed my life and made me realize important changes I needed to make in my life like self-care and working smarter not harder so I could have more time with my husband and family.
Grab the All-in-One Police Wife Reference Guide
Grab this handy reference guide for all things police wife! From important dates & events to resources for law enforcement- all in one place!
Then just a few weeks ago the Chris Kyle Frog Foundation blessed me again. Actually not just me, but both my husband and I. We were awarded a Revitalization Retreat where we could go away on an all-expenses paid trip and focus on JUST US. Even more extraordinary was we were also given 5 counseling sessions with Corie Weathers, a sought after counselor for first responder and military families.
Corie equipped us with tools to strengthen our marriage. She knew exactly what we were experiencing, she knew exactly what to say and she gave us the right path to help us be even more successful in our marriage. She helped us understand one another better by showing us each other's strengths instead of focusing on differences. This was very powerful for us! And before our trip began, she prepared us by having us discuss triggers, like what could cause issues while we were on our retreat. Then we had a battle plan in case those occurred. We were mentally prepared to go away which helped tremendously when I realized at airport security I left ALL of our car keys in my jacket pockets. That's right, I left my family and children with NO way to go anywhere. What could have been a HUGE trigger for me, was not, because my husband and I had a plan and he took control. This was exactly what I needed in this situation and we felt equipped to deal with it.
This trip allowed us to step away from the day to day. For 4 entire days it felt like my husband was not in law enforcement because he had the ability to just be himself away from home. Stresses of day to day life were eliminated because the foundation took care of everything from planning events (some planned activities on the trip like a couples massage but not everything) to childcare for our children to expenses.
While away in sunny Clearwater Florida, we were finally able to just slow down. We got to relax, breath, focus and reconnect. We felt like we were dating all over again. We truly just loved one another's company and I won't lie, sleeping in and not rushing through a meal because our kids were done were total bonuses! 😉
We got to hold hands, have full conversations over dinner and remember all the things we love about one another. The things that get buried in everyday life. While some of these things seem small to some, they were huge to us. Because this is our marriage and our story, which is now forever changed in the best way possible.
To say this trip refreshed and revitalized our marriage is an understatement! We have never been more connected and open in our marriage.
To Taya, Corie, and the entire Chris Kyle Team- we can not thank you enough!! It was honestly so hard for me to put into words just how appreciative we are. You gave us more than a relaxing getaway. You gave us time, you gave us inspiration, you opened our eyes to what we want to change about our marriage and what we want to keep doing. Thank you for seeing that we needed this because without you, we don't think we would have ever made time for us in this way. But that is definitely going to change!
Remember, your first responder marriage matters! So nominate you and your spouse for a revitalization retreat! You can do that here.
FREE Police Wife Guide- Top 10 Ways to Rock Police Wife Life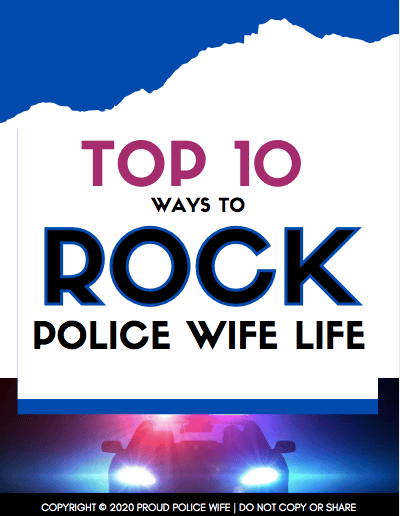 Learn to rock police wife life with these 10 easy tips! Join over 20,000 fellow police wives who are learning to rock it and feel supported with our help each week! Once a week I will provide you with even more ways to feel encouraged and supported for your law enforcement wife journey with my newsletter.
Read my PRIVACY POLICY here.