First responder spouses are some of the most strong and independent people I know. But sometimes what that means is we take on more than we can chew. And yes, I am speaking from experience.
We all have those tired days or weeks so here is a reminder on why rest and relaxation for you and police wives is important.
Tips to Insure Rest and Relaxation for Police Wives
Be okay with pumping the breaks a bit.
I am completely guilty of taking on more than I should. We have to be okay with slowing down our schedules or else nothing will change. You have the control to do that.
Be comfortable saying no.
Boundaries, boundaries, boundaries. If you say no to something, you are opening your life and schedule to say yes to something else. Maybe that yes is free time, sleep, time with your family, or an event or activity that aligns with your beliefs and heart more. You are allowed to say NO and not feel guilty for it.
You don't need to do it all.
And along those lines, you do not need to jam pack your life to be productive or successful. More activities for your kids, more projects and a clean house, does not make you a better parent or spouse. It just makes you a tired one.
It sounds cliche´ but make time for yourself.
We are heading into a busy time of year with the holidays and if you don't make yourself a priority then no one will. Take a day off, heck take two days off. Let your kids still go to the sitters while you are at home relaxing. You are allowed to do that.
Schedule time for yourself! Whether you sleep, bake, see friends and family, walk around Target aimlessly, get a massage or sit in silence- DO IT!
Ask for help.
I don't know why this can be so hard for so many of us but it is. Let your spouse know you need help. Or be willing to accept help from others who offer it. You don't have to be superwoman.
If you need more support or further tips on rest and relaxation for police wives, be sure to check out my two books on Amazon. The Peacemaker's Wife and Proud Police Wife: 90 Devotions for Women behind the Badge.
FREE Police Wife Guide- Top 10 Ways to Rock Police Wife Life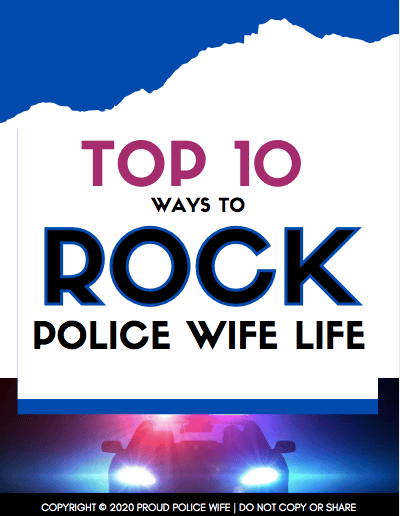 Learn to rock police wife life with these 10 easy tips! Join over 20,000 fellow police wives who are learning to rock it and feel supported with our help each week! Once a week I will provide you with even more ways to feel encouraged and supported for your law enforcement wife journey with my newsletter.
Read my PRIVACY POLICY here.