Disclaimer: I am not a counselor or doctor. Do not take my story, opinion or what is shared in this episode as medical or professional advice.
Raise your hand if over the past two years you have felt just plain tired as a law enforcement spouse.
For some of us, it ends there. We are just tired. Mentally and physically tired from the rhetoric, the hate that law enforcement receive and from the impact the job has on our lives.
For others, that tiredness turns into exhaustion and burnout. You can take a break, go on vacation or do a social media fast for a bit and feel better. These breaks rejuvenate you.
And for a small group of us, that burnout turns into something greater.
In today's episode, I am opening up with you about what I experienced the past two years and what that looked like for me. This is a very vulnerable episode for me as it was hard to unpack how I was feeling. Yet, I felt that it was a topic that really needed to be shared and discussed because while you may not have the same experiences as me, you may be feeling tired, too.
What some spouses are saying:
The fact is not only are our spouses are carrying the weight of the job, we, as spouses, can, too. We make sacrifices just as they do. This is more of a lifestyle than a job.
But some spouses are noticing:
An avoidance to topics related to law enforcement
Some spouses are wanting to talk about law enforcement less because of the lack of support and understanding from others. These discussions are too heavy and exhausting to have. They almost feel like a broken record.
Lacking Empathy
You have less understanding and feelings about certain situations.
Feeling burned out because it takes up too much headspace/energy to deal with
You are done talking about law enforcement and allowing it to take up more negative headspace.
These only scratch the surface.
For me, I was more than just tired as a law enforcement spouse
I mentioned earlier that for a small number of spouses this burnout can turn into something greater. And for me, it did.
I spoke to a counselor last year and after sharing what I was going through found out that I have something called Compassion Fatigue.
I was more than just mentally exhausted. I had little to no emotions to situations I used to have emotions about. I felt completely numb.
Bottom line, I was hearing about so many traumatic experiences in such a short amount of time, I could not process it all. I was talking with so many spouses going through traumatic experiences, protests, riots, etc while also trying to cope with my own feelings regarding what our family was going through in 2020 and 2021. I simply could not take it all in.
Reasons why spouses may be feeling tired, burned out or dealing with more:
Negative Rhetoric in the Media and Communities
Fear
Carrying the Burden of What Our Spouses are Going Through
Physical and Mental Exhaustion from Taking On More At Home
Unwanted Conversations with Family and Friends
Dread and Resentment
Anxiety
Trauma and Hearing the Trauma of Others
If you are feeling tired, burned out or think you may have compassion fatigue here are some things that may help you:
Put in Better Boundaries
You may have boundaries in place already but at times, they need adjusted. If you feeling tired, burned out or dealing with more than it may be time to place stronger boundaries or reassess them to fit your current situation better.
Protect Your Peace
Look at who you are letting into your life and what you are consuming. If certain people, situations or things are robbing you of joy and time, then you need to evaluate if they are helping to protect your peace or are they hurting it?
Pay Attention to How You Start and End Your Day
Are you seeing negativity on your phone before you even get out of bed? Are you starting your day by reading nasty comments about police? Then my guess is you are starting your day off on the wrong foot. Or maybe the last thing you see on Facebook before you go to bed is setting off triggers for you. Pay attention to what you let in to start and end your day as it may impact your mood and emotions.
Above all, Talk to Someone
If you are feeling tired, burned out or more then please talk to someone. A person of support or a counselor will help you work through these feelings.
I shared all of this today because I encourage you to check in on yourself and other police wives you know. We are sacrificing just as our spouses are which can leave us feeling a number of ways so check-ins are important. If you are tired as a law enforcement spouse, please know you are not alone.
If you liked today's episode or any past episodes, please leave a rating and review wherever you listen to podcasts.
FREE Police Wife Guide- Top 10 Ways to Rock Police Wife Life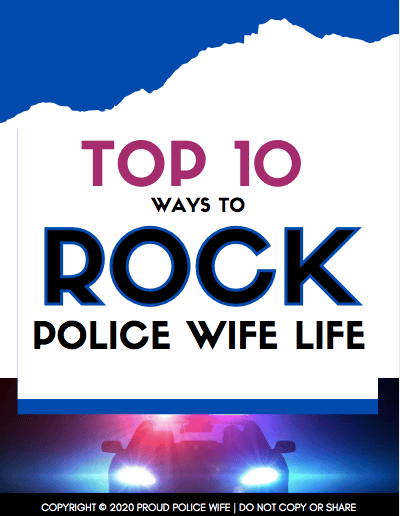 Learn to rock police wife life with these 10 easy tips! Join over 20,000 fellow police wives who are learning to rock it and feel supported with our help each week! Once a week I will provide you with even more ways to feel encouraged and supported for your law enforcement wife journey with my newsletter.
Read my PRIVACY POLICY here.