Years ago, I did not know that the loneliness I was experiencing was very normal. In fact, most police spouses experience loneliness, on some level, at some point. If you are finding yourself lonely and missing your spouse, then I want you to know, you are not alone.
I am not so physically lonely now because I have little ones & lots of animals to occupy my time and company. However, I am now in the stage of my life where I can feel emotionally lonely if I do not allow myself to be intentional and make time for my husband and I to be together. Keeping your time protected, as a couple is incredibly important.
Let's talk real quick about what loneliness actually is. It is not only feeling alone but also being physically alone.
Meaning, there is a difference between feeling lonely and physically being alone. This can be hard to differentiate when we are struggling with loneliness and/or being alone.
One thing to remember:
While our spouses may work opposite schedules than us at times or long hours, it is important to remember that these factors are not unique to law enforcement.
Many other careers experience shift work, long hours and conflicting schedules. Firefighters, other first responders, military members, doctors and pilots are just a few.
So sometimes we think we are all alone and no one is going through what we are going through. And I will admit, in the thick of it, it can 100% feel that way. But the truth is, many people may be feeling what we are feeling. Unfortunately, those people can just be harder to find.
I also know in my early years as a police spouse I had a hard time seeing past my hard situation to even think that others were in my shoes because let's face it, many were not.
So while we may be physically alone, there are other spouses physically alone, too.
So what can you do about it?
Let's talk about some ways to navigate feeling lonely and being physically alone.
Tell Your Spouse
While your spouse probably can't change his/her schedule, what they can do is be intentional about your time together during the off days to help minimize those feelings. Talk to your spouse. Maybe they are not aware of how you are feeling. Now is it a good idea to tell them while they are working? Probably not. But during a time that you are both able to have a discussion, let your spouse know how you feel so you can work towards minimizing those feelings. Often times, a connection is lacking if you are feeling lonely (again, different than being physically alone).
If you are physically alone and struggling, try this
One thing that helped me was to find friends in similar shoes. Does this mean they are always POLICE SPOUSES? NO!!
I think we need to get out of our head that we need to be friends with spouses from the department or other police spouses to help us navigate this lifestyle. Can you be friends with them? Of course!!
But any support system will do!
During one of my hardest seasons as a new mother and police wife, I became best friends with a military spouse. Her husband had a different schedule than my husband but she experienced a deployment and many other sacrifices as a Marine wife. We walked similar paths and we understood each other.
One of my other very close friends is married to a man that owns a car dealership. We connect on many levels because her husband works very long hours usually 6 days a week.
Knowing that you have at least one person you can lean on (of the same gender as you unless it is family) and possibly be with when your spouse is working to reduce the time you are physically alone, can help with building connections.
Take advantage of the alone time and do something for yourself
Knowing that you may experience periods of being physically alone due schedules, try to flip your perspective into one that benefits you.
Can you use this alone time to find a new hobby? Start doing something you love again? Use this time as "me" time?
While constant alone time is never fun, small amounts of it can be healthy and be beneficial for you if you decide to use that time to your advantage.
I'll be honest, it took me personally a while to change that mindset and get to that point, but when I did, I was much happier.
If you are wanting more tips on loneliness or dealing with fear as a police spouse, be sure to sign up for the lifetime level pass during The 4th Annual Police Wife Conference (April 25th-29th, 2022) as I will be holding a webinar on this topic for all lifetime pass holders. It will be live but a replay will also be available. YOU CAN SIGN UP FOR THE CONFERENCE (ALL VIRTUAL) HERE.
Like this episode? Be sure to subscribe to the Proud Police Wife Podcast and leave a review.
Want to stay in touch? Be sure to follow me on Instagram to watch my funny and encouraging reels and check out my IG stories for more behind the scenes.
FREE Police Wife Guide- Top 10 Ways to Rock Police Wife Life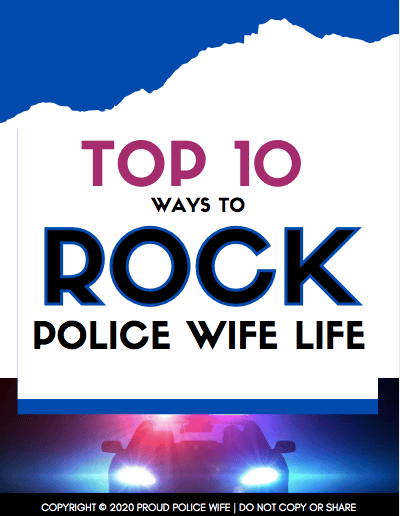 Learn to rock police wife life with these 10 easy tips! Join over 20,000 fellow police wives who are learning to rock it and feel supported with our help each week! Once a week I will provide you with even more ways to feel encouraged and supported for your law enforcement wife journey with my newsletter.
Read my PRIVACY POLICY here.