There is no question that law enforcement has been in the news and media increasingly more compared to past years.
People have also become much more vocal about how they feel about law enforcement especially on social media.
I think it is incredibly important for people to voice their opinion and to have discussions which can help further educate them on any topic.
But just like various topics, there are a lot of generalizations being made about law enforcement that simply are not true.
When People Say "I Don't Mean Your Officer"
What many law enforcement officers and spouses hear are people having discussions about law enforcement, but being told "oh not your officer" or "I am not talking about your spouse-I know they are good" or "I know you are a good cop but many others are bad".
Why is this problematic?
Generalizations are wrong ON ANY LEVEL and are dangerous to a given group of people or topic.
Just as many law enforcement officers, departments and spouses have spent the last year learning and listening (that will never stop), so should others who cry "all cops are bad" or lump every good cop with the bad ones or talk about law enforcement in general.
When people talk about law enforcement but feel the need to place disclaimers when they do talk about them, it honestly furthers the divide.
The fact is, you ARE talking about our spouse, whether you call them out by name or not. You are talking about a profession and human beings that you clearly don't know much about.
And we take it personally.
Where do we go from here?
Will this article reach the right eyes? I don't know but I hope it does.
Here are some ways you can learn more about law enforcement:
1.Go on a ride along
2.Be open to having conversations with law enforcement officers or departments, listen, and ask questions to learn more.
3.Go to a citizens academy or similar training to learn about the daily aspects of the job
4.Learn from CREDIBLE sources and do your research. Mainstream media and social media are not usually credible sources.
The average person has a lot to learn about what police do on a daily basis. If we aren't aware of what they do then simply demanding change or making blanket generalized statements with no idea why then it holds no merit. It can spread more misinformation and cause further division.
If you need more encouragement, check out my journal for police wives and girlfriends on Amazon, The Peacemaker's Wife. It provides you with journal prompts and quotes for navigating police wife life more positively.
FREE Police Wife Guide- Top 10 Ways to Rock Police Wife Life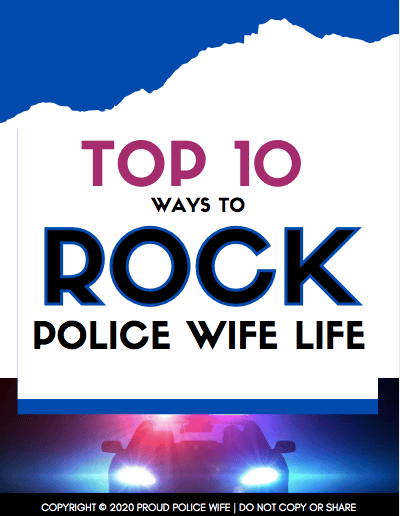 Learn to rock police wife life with these 10 easy tips! Join over 20,000 fellow police wives who are learning to rock it and feel supported with our help each week! Once a week I will provide you with even more ways to feel encouraged and supported for your law enforcement wife journey with my newsletter.
Read my PRIVACY POLICY here.