Law enforcement officers see more trauma than the average person. Over time, the trauma they see and experience builds or stacks on top of each other. It is vital that police officers find healthy ways to cope with the job and this includes talking about it.
When cops don't talk, we can see a variety of symptoms regarding their physical and mental health.
In today's episode I am joined by Susan Simons, President and Founder of Under the Shield, leading subject matter expert in First Responder Stress and Post Traumatic Stress Injury as well as a podcast host of Fight in Progress. Through her non-profit, Under the Shield, Inc., she has created the only Stress Coach Certification in the United States specifically for law enforcement, first responders, military, and their families.
Susan brings years of personal and professional experience as we unpack what happens when cops don't talk. Susan discusses why it's important for cops to talk and what signs and symptoms to look for as family members if they don't talk.
What Happens When Cops Don't Talk
Police officers need healthy coping strategies for dealing with the job and the trauma that comes with it. When cops don't have coping mechanisms or don't talk about the job, we do see signs and symptoms of that impact.
Susan explains that the law enforcement lifestyle is one big psychological garbage can. Everything they see on the job, shift work, family life, less sleep, children, work politics, etc all gets compacted into this psychological garbage can.
And just as you would with a regular garbage can at home, you take out the trash. You empty it regularly or else it will start to stick, get heavy, etc. If you don't empty you psychological garbage can then it will also present symptoms related to your health.
Some of these symptoms that you or your loved ones may recognize are: acid reflux, high blood pressure, mood swings, problems sleeping. Then when these symptoms are not addressed they can worsen into other health related issues.
Below is Susan's theory of the psychological garbage can and it illustrates why it is important, just like any other trash can, to empty it regularly!
The Simons Theory of The Psychological Garbage Can
Susan also discusses ways to talk and approach your spouse if you are seeing these symptoms or if you want to encourage emptying of the psychological garbage can.
If you or someone you know need resources for a department, help or stress coaching, be sure to contact Under the Shield.
Contact Under the Shield or Susan:
Under the Shield Website
Susan's Cell Phone Number: 334-324-3570
Anonymous Toll Free Number: 855-889-2348
Be sure to listen to the full episode for all of Susan's recommendations and expertise.
FREE Police Wife Guide- Top 10 Ways to Rock Police Wife Life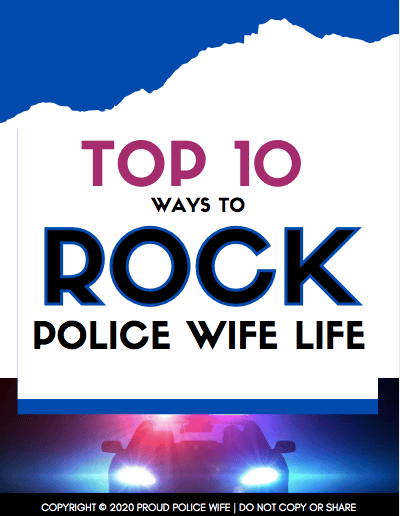 Learn to rock police wife life with these 10 easy tips! Join over 20,000 fellow police wives who are learning to rock it and feel supported with our help each week! Once a week I will provide you with even more ways to feel encouraged and supported for your law enforcement wife journey with my newsletter.
Read my PRIVACY POLICY here.