Are you married to a police officer, dating one, a family member, or supporter?
Then welcome to the Proud Police Wife podcast where we are going to provide you with support, tips, and relatable experiences surrounding this lifestyle. Some topics will be funny while others may tug at your heartstrings.
If you don't know me, my name is Rebecca Lynn. I am a mother of 3, former teacher and police wife of 15 years. I own the blog Proud Police Wife, am the founder and host of the Annual Police Wife Conference which is a virtual conference held every April and author of two books. My newest book was released at the end of 2021 and is called Proud Police Wife: 90 Devotions for Women Behind the Badge.
After 5 years of serving this community, it only felt natural to now start a podcast where we can connect even more.
Let's get started!
Welcome to Episode 1!
Today's episode will be slightly different as I am not interviewing someone or having it based around a specific topic. It's more just like a get-to-know-you episode so we can connect and you can learn more so you want to come back for future episodes.
So why did I start the blog and now this podcast?
The truth is, I always had it on my heart to serve this community in some way. Many, many years ago, I didn't know how I would do that but ended up deciding on writing a blog because I am truly passionate about writing, so it only felt natural.
I can remember when my husband first went to the police academy. I would Google and look for resources and support for being a police wife and would come up dry. And to be honest, the information I did find, was negative, incorrect statistics or myths. Nothing focused on the reality of this lifestyle or anything positive for that matter.
So I decided to create a blog and safe space for law enforcement families to visit that contained support, resources, and advice that was hard to find elsewhere. To my surprise, many spouses could relate and in October 2021, we had our 5 year blog anniversary!
So after writing on the blog for a few years, hosting a virtual conference annually and two books, a podcast just felt like the next step. And I can NOT be more excited!!
Did I mention I am a talker, too? So this definitely fits my personality. LOL!
The podcast gives me another outlet to serve this community, connect and have real discussions about this lifestyle.
Not only that, it gives me the opportunity to share more advice with you, bring on incredible speakers that have experience with this lifestyle, too and have raw, honest conversations that we just can't have on the blog.
So I hope you will join me for this season and a total of 16 episodes!
I can promise you one thing: we will laugh together, cry together and my goal is to make you feel heard and seen. I am so grateful that you are here!
Like this episode? Be sure to subscribe to the Proud Police Wife Podcast and leave a review.
Want to stay in touch? Be sure to follow me on Instagram to watch my funny reels and check out my IG stories for more behind the scenes.
FREE Police Wife Guide- Top 10 Ways to Rock Police Wife Life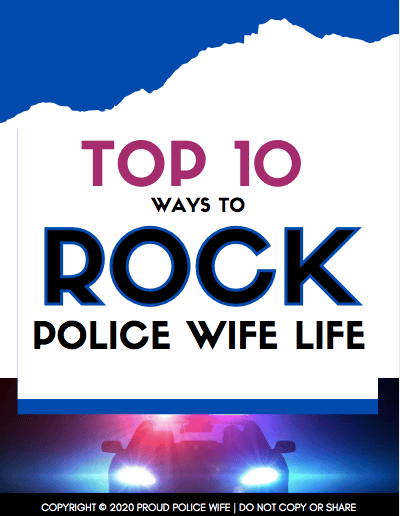 Learn to rock police wife life with these 10 easy tips! Join over 20,000 fellow police wives who are learning to rock it and feel supported with our help each week! Once a week I will provide you with even more ways to feel encouraged and supported for your law enforcement wife journey with my newsletter.
Read my PRIVACY POLICY here.