This is a very popular question I get asked a lot: "How do I meet other police wives or girlfriends or gain support from others who get it?"
It is important to be able to connect with those who also need support or friendship as a police spouse or significant other. And we all know that no one quite understands this lifestyle unless they walk in our shoes.
I remember when my husband first got into law enforcement over 16 years ago. I truly wanted friendship with other police spouses but it didn't feel that easy. I didn't know how to meet others in an authentic way and many of those I met were much older than me and we didn't connect as friends.
So over the years I have learned many ways to gain support with other spouses which I'll share today.
I am also going to tell you what I wish someone had told me years and years ago when looking for these friendships.
Ways to Gain Support with Others as a Police Spouse or Significant Other
If available, connect with wives/girlfriends through department functions
While it is important to disconnect from the job (both for you and your spouse), it is nice to attend department led functions or gatherings from co-workers every now and then. It is a great way to meet others who share the same understanding as you and it is nice to know who has your spouse's back while on the job.
Join a spousal group
Many times, departments or towns/cities have their own police spousal group. Search for one locally where you live. If there is not one local to you, here are tips for starting your own group– it's easier than you think.
Find police related accounts on social media to follow
Social media can be a tricky place- kinda like the wild west. It definitely has its bad side, but there are a number of positive police-related accounts on social media that you can follow for support, encouragement and relatable content.
If you are more of an introvert and like only interacting when you feel comfortable, then this may be the best solution for you.
Here are some police-related social media accounts you may like:
Proud Police Wife- that's me:
Be open to making friends who walk similar shoes but not the exact same ones
It's good to remember that there are many professions that experience some of the same struggles that we face like shift work, days apart, danger while at work, etc.
Even if someone is not married to a police officer, they may be able to relate for other reasons.
I have friends whose spouses are doctors, own a car dealership, in the military, linemen and we can relate to each other in different ways.
I truly recommend being open to meeting others who share similar struggles as you.
Join *CONNECT*- the only monthly online group for police spouses and significant others
*CONNECT* is a community for law enforcement wives & girlfriends to be strengthened, mentored, and gain skills to navigate this lifestyle. It is run by me, Rebecca Lynn, founder of Proud Police Wife and police wife of 16 years.
You get access to exclusive content and get to be mentored on group calls by Rebecca in a private community (off of social media).
If you feel like you are navigating this lifestyle alone and are looking for others to connect with on a weekly basis, then this is the group for you.
It opens November 1st and you can join the WAIT LIST for *CONNECT* here and be among the first as a police spouse or significant other to sign up at the lowest rate.
What I Wish Someone Had Told Me Years Ago as a Police Spouse:
Finding friendship with those who get it is valuable, but if you don't connect with other police spouses, that is okay, too. Being friends with anyone WHO TRIES to understand is a blessing, too. Having a support system is truly what matters most. If you can find friendship with someone who does walk similar shoes to you, then that is a bonus.
If you liked today's episode or past episodes, please be sure to leave a rating or review wherever you listen to podcasts.
For more support, be sure to check out my newest book Proud Police Wife: 90 Devotions for Women Behind the Badge here.
FREE Police Wife Guide- Top 10 Ways to Rock Police Wife Life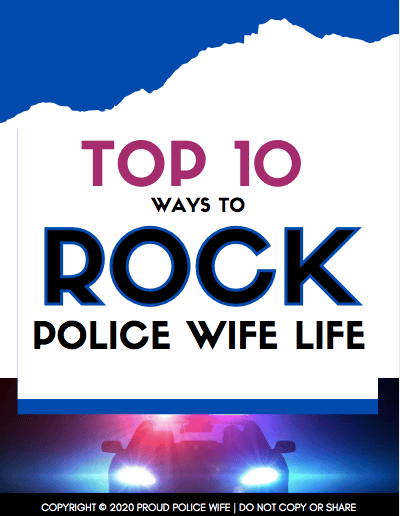 Learn to rock police wife life with these 10 easy tips! Join over 20,000 fellow police wives who are learning to rock it and feel supported with our help each week! Once a week I will provide you with even more ways to feel encouraged and supported for your law enforcement wife journey with my newsletter.
Read my PRIVACY POLICY here.