Can shift workers like cops eat healthy? And what about shift work families who may be on a different schedule than their loved one? Of course they can and today we are talking about ways to fuel your body despite shift work.
I can't tell you how many people just think cops eat donuts and drink energy drinks all day. The amount of comments and messages I get from people about this is kinda insane actually.
And today on the podcast I talked with Raina, who is a shift work dietitian and she said while it is a stereotype, often in the middle of the night, the only places open for night shift workers are donut shops or gas stations, so their food options are limited.
Raina is a registered dietitian who is luckily (and happily) married to a first responder. She's worked in private practice for almost ten years in weight management and chronic disease management. She feels incredibly passionate about supporting shift workers and their families increase their energy and improve their health, as she's seen firsthand the toll it can take on their mental health, physical health, and their relationships.
So let's dive in on ways shift work families and shift workers themselves can fuel their body (it isn't as hard as you may think)!
Ways to Fuel Your Body for a Shift Worker and Shift Work Families
First, let's talk about that tired feeling a shift worker has after coming off shift. Really it is like jet lag- its like working an all nighter, then flying to Germany to work there, then flying back home and working again. I think we all know what that jet lag feeling is like. And as shift work families, that term "jet-lag" can help us understand how our loved one may be feeling.
That first day off, that is when shift workers will feel the most jet-lagged. So there are these "jet lag" strategies essentially to help the body after you worked a stretch shift work shift.
First, keep meal timing as consistent with normal meal times as possible.
Yes, this can be a challenge but it is worth trying to match meal times as much as you can. This will help tell the body what to do and when to do it.
Expose the body to bright light as soon as you can.
A good place to start is with 30 minutes of light therapy. That bright light will stop the sleepy time hormone- melatonin. Raina recommends the Happy Light- check it out here.
This all helps to tell your body what time it is.
Next, exercise soon after you wake up.
This gets your body awake and moving and being in bright light. Doesn't need to be an intense workout but just move your body.
Here's how families can support the shift worker in their life:
A great first step is by meal planning. Tip: Trying to ask your spouse (the shift worker) what want for meals days from now, is way too overwhelming for their brains on shift work days. Have these discussions on their days off.
Decide as a family, on off days, what are some meals you'd like to make part of the dinner rotation.
If you have to eat out as a shift worker, here are some tips:
Eat before midnight so it doesn't sit in your gut all night. Your stomach is sleeping much of the night even when you are awake.
Try to avoid combo meals, they are heavy on fat and carbs. Maybe try the burger with some snacks and fruit from home. Or start with swapping the soda and order the water instead. Sometimes it's not about perfection, but instead making realistic swaps.
Grab veggie trays, fruit trays, and pre-portioned healthy snacks to make things more realistic and attainable.
If you do pack meals while on shift work and you want to heat your meals, check out the hot logic mini here, it is a portable food warmer.
How to get started with planning meals and snacks if you are not organizational by nature:
It's normal to go through feelings of being planned and organized one week and other weeks where you feel like you are struggling.
Stay stocked up on things that you can grab easily to make EASY meals together. Those finger food style foods work well for everyone: kids, a busy night, for shift workers, for lunch boxes, for a sports night, etc.
Frozen meals are okay!!
Remember, it is much easier to make small swaps slowly in your life to make meal time healthier, than it is to make drastic changes all at once.
You can follow Raina for more shift work tips on Instagram here. Or check out her website full of tips for shift work families here.
FREE Police Wife Guide- Top 10 Ways to Rock Police Wife Life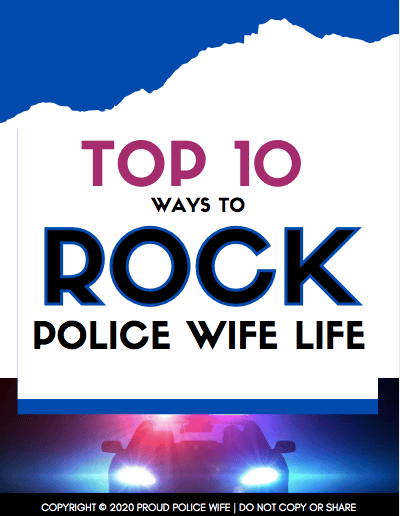 Learn to rock police wife life with these 10 easy tips! Join over 20,000 fellow police wives who are learning to rock it and feel supported with our help each week! Once a week I will provide you with even more ways to feel encouraged and supported for your law enforcement wife journey with my newsletter.
Read my PRIVACY POLICY here.