This is a sponsored post on behalf of Arrest My Vest. All opinions are honest and my own.
For law enforcement couples, we may not be able to celebrate Valentine's Day on the actual day. Maybe it is the day before or day after and it may be in a non-conventional way, and that's okay!
Celebrating on a different day can be rather nice. You don't have to deal with crazy dinner reservations or wait hours for take out. It's just another day celebrating your love.
This is a quick Valentine's Day Gift Guide created with law enforcement couples in mind, from law enforcement related gift ideas to date ideas for shift workers.
Valentine's Day Gift Guide for Law Enforcement Couples:
The most practical gift for any officer! This spray works miracles! We have used it consistently in our home for years now and it truly eliminates any odors.
From vests to uniforms to gear and smelly boots- it will take away any smell.
Plus, we use it for dog beds, kid shoes, the car and more! So you truly get your monies worth with this purchase. It is also non-toxic and safe to use around pets, K9s and kids!
Check out the bundle deals from Arrest My Vest here and use code THANKYOU (all one word) for 15% off.
"Fancy" Homemade Meal
Sometimes around the holidays schedules just don't align. But that doesn't mean you need to miss out time together or a nice dinner. My husband and I love making really nice, delicious dinners at home a few times a year. Sometimes we go for lobster tails, other times it's chicken parm with spaghetti. Whatever it is, we try to pick something that is outside of our normal rotation and feels a bit fancier.
So if you are short on time, this would be a great option whether it's Valentine's Day or not.
This retired, female LEO- owned shop has so many beautiful jewelry pieces, including blue line inspired pieces. I get so many compliments on my heart, blue line ring, so I thought I'd share it here. Get 35% off the Heart Collection with code LOVE.
Date Night At Home
As you probably know, planning dates on days your spouse works is can usually be filed under "not gonna happen". But having a date idea ready to go, pre-planned, to do at home for any evening your spouse is off, is a great way to plan time together without added stress.
My husband and I love to place an order of food at one of our local spots (usually sushi), he grabs it on his way home, then eat it after the kids are in bed and watch a movie together. It's an inexpensive way to have time together that doesn't stress us out (and still works if plans are rescheduled or your spouse is running late).
Okay police wife/gf, if you need to send a gift idea to your loved one, here are two cute and comfy options from police wife owned shop, Emory Lane.
First is this "Police Be Mine" Crewneck.
Next is this "Cuffs and Kisses" Crewneck
Funny Gift Ideas
I feel like Valentine's Day is also a time to show some humor with your love. Or a good time to grab a few funny gifts mixed with the practical gifts like Arrest My Vest. Here are some humorous gift ideas.
FREE Police Wife Guide- Top 10 Ways to Rock Police Wife Life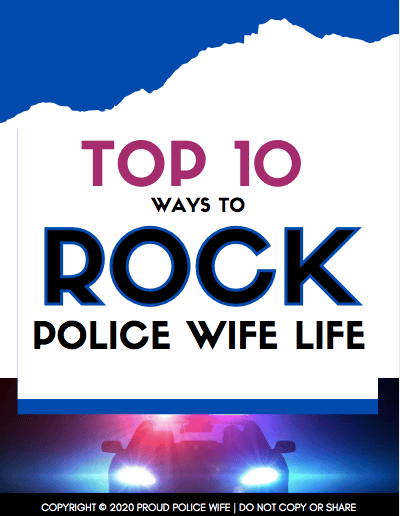 Learn to rock police wife life with these 10 easy tips! Join over 20,000 fellow police wives who are learning to rock it and feel supported with our help each week! Once a week I will provide you with even more ways to feel encouraged and supported for your law enforcement wife journey with my newsletter.
Read my PRIVACY POLICY here.