This is a sponsored post on behalf of Tactical Baby Gear. All opinions are honest and my own.
Congratulations are in order! Whether those congrats are for you or expecting law enforcement parents, congrats!
My husband and I have three little ones and while we truly appreciated any thoughtful gift we received when each of them was born, there were some things we just really needed. As opposed to another newborn outfit that our kids would grow out of in about two weeks.
Instead, let me fill you in on what new or expecting law enforcement parents really want but may not have told you yet.
Gift ideas expecting law enforcement parents really want:
Food
Oh yes, glorious food. The last thing I felt like I had time for was making a meal even though that should be high on the priority list. With a new baby, you are tired, busy with said newborn and meal planning doesn't take priority over sweet baby snuggles.
So if you want to give a gift that newly blessed parents will appreciate then give the gift of food. Even ordered in pizza works, guys. Gourmet is not required.
As expecting law enforcement parents, practical gifts are the way to go. We absolutely love the practical and tactical baby gear options offered by Tactical Baby Gear.
My husband is super hands-on so he baby-wears and carries the diaper bag just as much as I do so finding more tactical baby gear and accessories are what gets the most use from the both of us. A pink or feminine bag was not exactly my officer's first choice for baby gear.
I love this quick, over the shoulder diaper bag that is full of pockets and storage inside. And of course, I put the "mommy" patch on front.
My little ones also love the tactical teddy bear that reminds them of dad. We stuck a thin blue line patch on the front to make it police-themed and our son carries it around the house anytime Dad is working! This is a great gift for a sibling or for baby!
My husband prefers this bookbag style diaper bag as it doesn't feel like a traditional diaper bag to him. The TBG Daypack 2.0 Combo Set comes with it all and makes everyday use super practical. It even has a convenient wipe pouch on the side.
These are the most comfortable and durable baby gear products we have ever used and that is saying a lot coming from my husband!
Don't believe me? Check out this post with even more tactical gear for dads in law enforcement.
Grab the All-in-One Police Wife Reference Guide
Grab this handy reference guide for all things police wife! From important dates & events to resources for law enforcement- all in one place! Subscribing also gets you access to my weekly newsletter full of tips and encouragement.
Read my PRIVACY POLICY here.
Your Time
After the dust settles and the newly blessed family (or you) have settled into a routine then offer them some help. A simple text will do asking if they need babysitting for older siblings, need to take a nap, need to run errands, or maybe they just need some adult interaction. Regardless, help can go a long way.
Once each of our babies was about two weeks old, I felt much less zombie-like and welcomed the idea of some help. I loved that my kids could go to a friend's house for the afternoon or appreciated the friend that came over just to relate to all my new baby/mom stories.
Be that friend and give the gift of time.
So let me say it again for the people in the back, practical is the way to go for expecting law enforcement parents!
FREE Police Wife Guide- Top 10 Ways to Rock Police Wife Life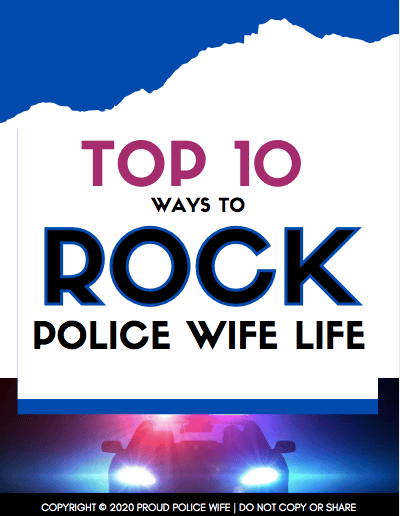 Learn to rock police wife life with these 10 easy tips! Join over 20,000 fellow police wives who are learning to rock it and feel supported with our help each week! Once a week I will provide you with even more ways to feel encouraged and supported for your law enforcement wife journey with my newsletter.
Read my PRIVACY POLICY here.