Guest Post by Cote
Are you familiar with love languages? I often joke that my love language is prosecco and pizza, or binging a certain Netflix show, or Amazon Prime, or…
But I'm not talking about those love languages. I'm talking about the five love languages Gary Chapman developed. You might have taken the online quiz at some point, or gotten one of his books gifted to you (we received one for our wedding).
If you're totally unfamiliar with it, the basic concept is we all have a preference towards one or two love languages, and respond to our spouse more positively when they use that language. The five languages are acts of service, words of affirmation, receiving gifts, physical touch, and quality time.
Personally, my top love language is acts of service. That means that for me, I appreciate it when my husband vacuums the living room more than when he brings me home a present or tells me I look pretty. Do I love presents and being told I'm pretty? Well of course. But for me, actions speak loudest to my heart and reinforce how much my officer cares about me.
We often show our love in the language we prefer. That only makes sense, right? We show love to our spouse in the way we want them to show us. However, this doesn't take into account the fact that our spouse might have a completely different love language than us. Maybe you both value physical touch-you love holding hands, you're constantly sitting on the couch next to each other, you hug and kiss all of the time. Or maybe you both value words of affirmation-you put into words often how much you love the other person and how grateful you are for them. If you both have the same love language, great! Keep on keepin' on. But if you and your hubby have different top love languages, you might need to go out of the way to put them into practice.
For example, if my officer's top love language is receiving gifts (even though I don't really care for receiving gifts because it makes me feel awkward) I'm going to make sure I pick up an extra treat for him at the store, or order that new movie I know he's had his eye on. On the other hand, if his top love language is quality time, I'm going to make a point to keep my phone in the other room and be mindful of the time we have together when he gets home from a shift, or plan a nice date night where we can catch up.
I encourage you and your officer to each take the quiz (it's free and online) and share your results with each other. Their love language probably won't come as a surprise to you-you've already noticed he loves it when you bake him brownies or take out the trash. However, it can be a nice conversation starter and a good reminder of how to keep your marriage intentional and prioritized.
The
Blue

Love Language

As a police wife, I've always thought that there should be a sixth love language-a blue love language, if you will. One that's full of washing stinky vests and running out to buy new boot laces when they break ten minutes before he leaves for a shift. Of picking up the bullets found stuck in the washing machine and laying on end tables and kicked under the bed. Of packing lunches and kissing goodbye, of always saying "be safe, I love you" as they walk out the door. Of listening for that peaceful Velcro sound when they get home and take off their vest, or understanding when they stay at work for 20 hours straight. Of offering to make the phone call to mom or sister or auntie that we're going to miss yet another birthday party or family dinner.
That blue love language looks very different than other people's normal, because blue life is a different type of normal.
You might have been living the blue life so long that you forget what it was like before he was a law enforcement officer (LEO), or you might have just started the journey and are still trying to navigate what life is going to look like.
Regardless, I encourage you and your officer to spend some time communicating what each of you appreciate the most and what language speaks to your heart the most, and practicing your family's translation of the blue love language.
About the author:
Cote is a law enforcement officer wife (LEOW) living in Washington State, where she works as a family therapist.  Cote has a heart for first responders and is adamant about making self-care practices and mental health awareness mainstream. She enjoys prosecco, tacos, and sunshine, and spends way too much time hanging out with her 25 pound cat. Cote often finds herself journaling in her downtime, and is the founder of ammo + grace, a faith based LEOW support blog.
FREE Police Wife Guide- Top 10 Ways to Rock Police Wife Life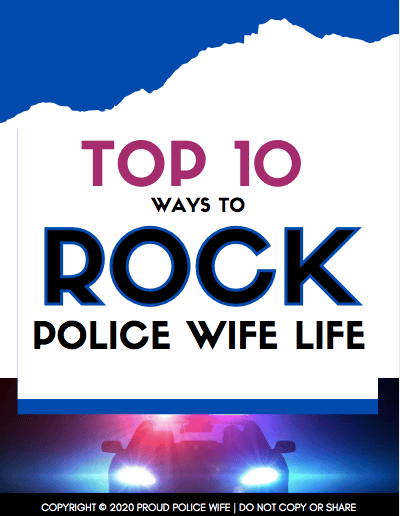 Learn to rock police wife life with these 10 easy tips! Join over 20,000 fellow police wives who are learning to rock it and feel supported with our help each week! Once a week I will provide you with even more ways to feel encouraged and supported for your law enforcement wife journey with my newsletter.
Read my PRIVACY POLICY here.